by James Rickards, Daily Reckoning: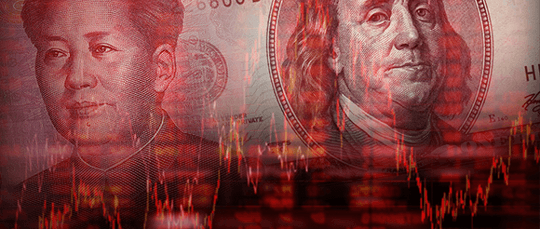 I recently returned from a weeklong trip to China, specifically Shanghai and Nanjing. In Shanghai, I met with a group of forty of the top China economists, mostly from major Chinese banks and brokers, at an annual event called the China Chief Economist Forum. I was a keynote presenter at the forum to 400 invited guests made up of major institutional investors and wealth managers in China.
In Nanjing, I met with provincial government officials and economic development experts. They are building a high-tech research center of excellence called UTown on the southern outskirts of the city. I was even permitted to enter a top-secret Huawei laboratory used for testing new internet data-mining algorithms. Huawei is closely affiliated with the People's Liberation Army — and is banned from most business in the United States because they are suspected of hacking and espionage aimed at U.S. critical infrastructure.
In addition to our proprietary models and analytic techniques — including complexity theory, causal inference, and behavioral psychology — I have always been of the view that there is no substitute for foreign travel and face-to-face contact with both experts and everyday citizens in the countries we are trying to understand.
That's why I also took every opportunity I could find to speak with drivers, clerks, bellhops, and passersby. That's not as difficult as it sounds. In a country like China, few citizens have traveled abroad and they are often eager to practice English conversation with a real American.
People you meet in the street are often a better source of information than the experts in the hotel conference rooms. I asked one student if people in China were trying to get their money out of the country.
His eyes lit up and he replied, "Yes, everybody I know!"
Why are the Chinese moving their money out of the country? Because they know, as I'll explain below, the yuan could lose its value any day now.
China's Hurricane Strength Headwinds
The process of connecting the dots between the political, economic, and social forces buffeting China is complicated. By using technical analysis and information gathered on the ground, we are able to cut through the haze of political rhetoric and propaganda coming from Washington and Beijing. Then we bring you a reasoned estimate of what the near future holds in store for markets as the world's two largest economies — China and the U.S. — work out their differences for better or worse.
In 2016, we know that China, the world's second largest economy, defied predictions of a slowdown by unleashing massive amounts of government spending and adding mountains of debt to stimulate its economy.
But we expect 2017 may turn out very differently. China is encountering hurricane force headwinds that will cause its nonsustainable debt-driven policies to reach a critical state.
These headwinds include: confrontations with President Trump on issues of trade, tariffs and currency manipulation; internal political instability from Chinese President Xi's efforts to expand and centralize his political power; possible geopolitical crises connected to North Korea, Taiwan or the South China Sea; Trump's pivot toward Russia and away from China; the Chinese credit bubble; capital flight; and China's delicate relations with the IMF.
In an interview with Chris Wallace on Fox News Sunday on Dec. 11, 2016 then President-elect Trump was asked about a phone call he had taken from the President of Taiwan. Trump replied as follows:
I fully understand the One-China policy, but I don't know why we have to be bound by a One-China policy unless we make a deal with China having to do with other things, including trade. I mean, look, we're being hurt very badly by China with devaluations with taxing us heavily at the borders when we don't tax them, with building a massive fortress in the middle of the South China Sea which they shouldn't be doing, and frankly with not helping us with at all with North Korea. You have North Korea, you have nuclear weapons, and China could solve that problem and they're not helping us at all. So, I don't want China dictating to me…
That one quote neatly summarizes the bundle of challenges confronting China as a result of the election of President Trump.
The first challenge is that Trump is plainspoken and does not hide behind the usual diplomatic babble. That can be difficult for the Chinese to tolerate because their culture is dominated by the concept of "face" or the need to avoid direct conflict or embarrassment.
When Chinese lose face as the result an adversarial thrust, they try to regain face by being adversarial in return. The result can be an escalation of tensions independent of the policy substance involved. That can make agreements more difficult to achieve.
President Trump and President Xi are on a collision course involving issues of trade, tariffs, and currency manipulation. Geopolitical issues will make the economic issues even harder to resolve.
The quote also lists the main areas of contention — trade, tariffs, taxation, currency manipulation, North Korea, Taiwan, and the South China Sea. China's response to these conflicts might take the form of a maxi-devaluation of the yuan, much tighter capital controls, a severe downturn in its economy or all three.
Read More @ Dailyreckoning.com
Help us spread the ANTIDOTE to corporate propaganda.

Please follow SGT Report on Twitter & help share the message.