by Neil Munro, Breitbart:
NBC's corporate parent, Comcast, is joining the corporate backlash against President Donald Trump's popular immigration reform, partly prodded by the company's Indian-born Chief Technology Officer, Sree Kotay.
The company provided employers at its Philadelphia headquarters time off on Thursday to protest Trump's popular policy, which is designed to reduce the inflow of costly refugees and to exclude migrants carrying "hostile attitudes." Company protests were also expectedin Washington D.C., New York and California.
Trump's new policy seeks to exclude people who:
do not support the Constitution, or those who would place violent ideologies over American law … those who engage in acts of bigotry or hatred (including "honor" killings, other forms of violence against women, or the persecution of those who practice religions different from their own) or those who would oppress Americans of any race, gender, or sexual orientation.
Trump underlined the pro-American nature of his reform today, saying at the National Prayer Breakfast that;
Our nation has the most generous immigration system in the world. But there are those who would exploit that generosity and undermine the values that we hold so dear. We need security. There are those who would seek to enter our country… to spread violence or oppressing other people based upon their faith.

We will not allow… intolerance to spread in our nation… So in the coming days we will develop a system to make sure those admitted into our country fully embrace our values of religious and personal liberty and that they reject any form of oppression and discrimination. We want people to come into our nation but we want people to love us and love our values. Not hate us and hate our values.
In Philadelphia, the 45-minute protest against the "hostile attitudes" policy was held just after lunch.
The growing campaign by corporations — including Google, Starbucks, Amazon, Lyft and Netflix — against the newly elected president and his immigration reform is shaped by their bottom-line desire to raise the inflow of immigrant consumers and cheap workers.
But the corporate backlash is also boosted by sympathy from many top-level managers — both native-born and immigrant — towards striving migrants, regardless of the migrants' political or ideological views.
Comcast's Kotay, for example, arrived in the United States as a child and worked his way to the top of the nation's high-tech sector, alongside other Indian immigrants who now running Google and Microsoft. In his Twitter account, he describes himself as "comcast. chief technology officer. immigrant."
Kotay made his political sympathies clear in a message to his employees, in which he appears to described the elected President as "the enemy," and also suggests that Trump is similar to now-dead Venezuelan dictator Hugo Chavez.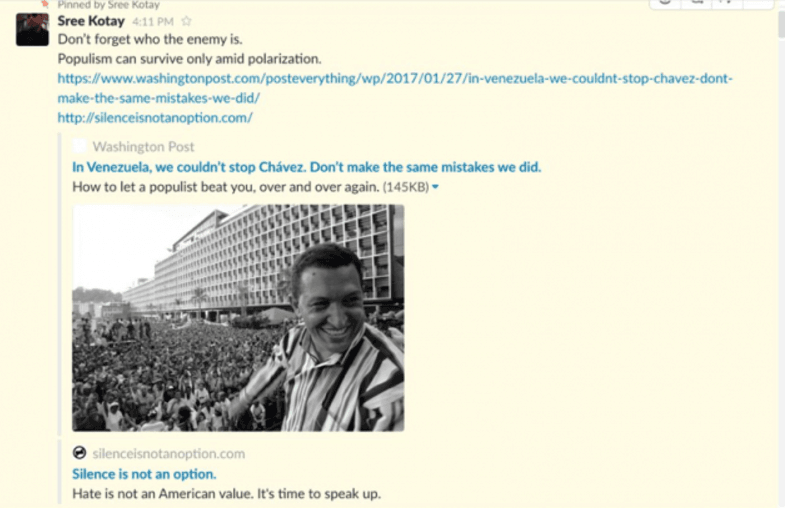 The screenshot was leaked to a radio station, New Jersey 101.5.
Kotay's Twitter feed also shows his personal dislike of Trump's policies, which may end up reducing the inflow of Indian-born migrants and contract-workers into the United States.
Trump's policy is designed to exclude "hostile immigrants," including those who reject the U.S. constitution or who support violence via Islamic holy war or "jihad." The new policy would also exclude people who endorse "honor killings" of women and girls, which is awidespread problem in India and a growing problem in the United States.
Help us spread the ANTIDOTE to corporate propaganda.

Please follow SGT Report on Twitter & help share the message.