by Pam Martens and Russ Martens, Wall Street On Parade: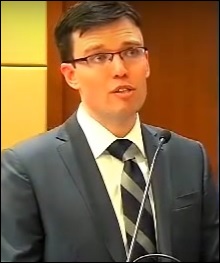 Students and teachers at Franklin High School in Seattle are walking a little taller and prouder this morning. One of their own, 37-year old Noah Purcell, the Solicitor General of the State of Washington, has in the span of less than a week, beat the most powerful man in the world – not once but twice. Purcell convinced District Court Judge James Robart in oral arguments on February 3 and all three judges sitting at the Ninth Circuit Court of Appeals in oral arguments on February 7 that President Donald Trump had illegally imposed an Executive Order banning immigrant entry into the United States from seven majority-Muslim countries.
The 29-page wide-ranging decision from the Ninth Circuit says as much about the power of Purcell to hone sweeping constitutional concepts into a finely-tuned legal argument as it does about the ability of Americans to successfully challenge a President determined to rule by Executive Order and intimidating Tweets.
When Purcell stepped to the podium on Friday, February 3, to make his oral arguments to Judge Robart, there was a faint hint of nervousness in his voice. But that quickly dissipated as he described the chaos and disruption of lives that was occurring as a result of the ill-conceived Executive Order. Not only had persons with valid visas been denied entry to the United States under the order, but persons who were Lawful Permanent Residents (LPRs) with green cards were denied re-entry when the order was first imposed. The government, he told the court, continued to flip-flop on exactly who was covered under its amorphous order.
Judge Robart was convinced by Purcell's arguments and imposed a nationwide Temporary Restraining Order, blocking Trump's order from taking effect while the case moved forward in his courtroom. The government quickly appealed the ruling to the Ninth Circuit Appellate Court. That's when a large swath of America rose to its feet to confront the arrogance and unconstitutionality of the new President's assertion that he could make rulings with a pen that were unreviewable by the courts; throw the innocent lives of teachers and students and traveling professors and tech employees with valid visas into chaos and inflict anxiety and fear into permanent residents in America.
Read more @ wallstreetonparade.com:
Help us spread the ANTIDOTE to corporate propaganda.

Please follow SGT Report on Twitter & help share the message.