by Claire Bernish, The Free Thought Project: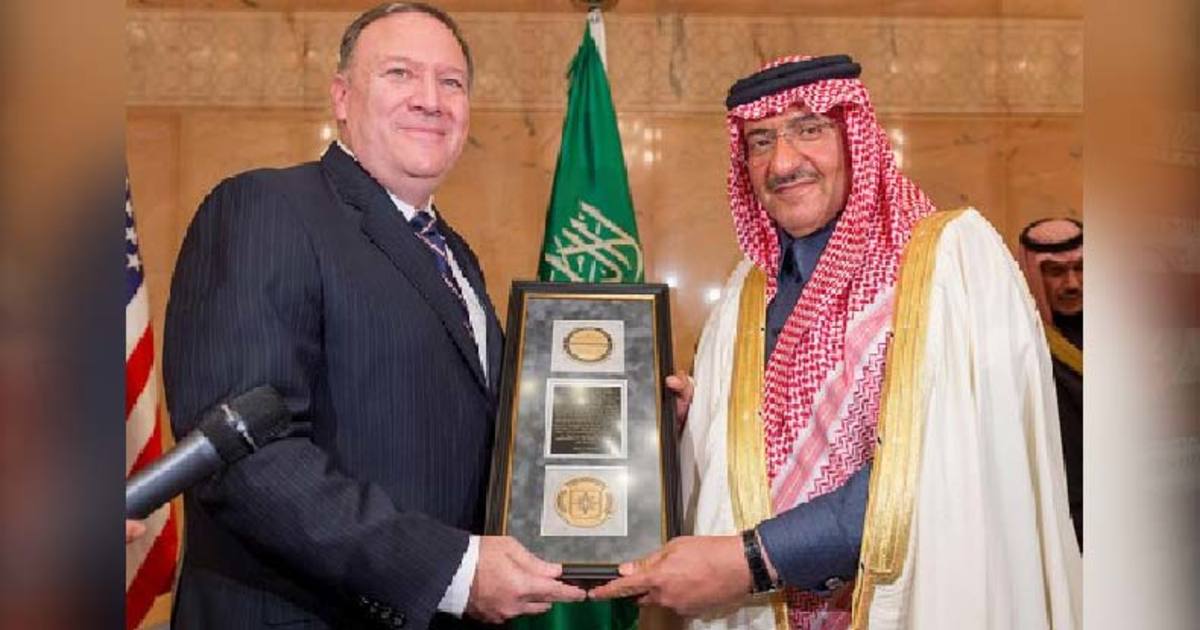 In a move that would make Orwell spin in his grave, the CIA presented to the heir to the throne in Saudi Arabia — one of the biggest sponsors of terrorism on the planet — an award for 'counter-terrorism.'
Central Intelligence Agency Director Mike Pompeo traveled to Saudi Arabia to award Crown Prince Mohammed bin Nayef the George Tenet Medal in recognition of his "excellent intelligence performance, in the domain of counter-terrorism and his unbound contribution to realise world security and peace."
In a statement paraphrased by Arab News, "the crown prince said the award represents international recognition of the Kingdom's anti terrorism efforts under the directives of King Salman."
The irony of any Saudi winning an award for combating terrorism is staggering — particularly given revelations found last year in emails leaked by Wikileaks showing the U.S. political establishment has been well aware Saudi Arabia funds and supports the Islamic State.
"While this military/para-military operation is moving forward, we need to use our diplomatic and more traditional intelligence assets to bring pressure on the governments of Qatar and Saudi Arabia, which are providing clandestine financial and logistic support to ISIL and other radical Sunni groups in the region," Hillary Clinton wrote to John Podesta in an email dated August 17, 2014.
"This effort will be enhanced by the stepped up commitment in the [Kurdish Regional Government]. The Qataris and Saudis will be put in a position of balancing policy between their ongoing competition to dominate the Sunni world and the consequences of serious U.S. pressure."
Perhaps bin Nayef couldn't have been better poised to win this award from the CIA, given its namesake's role in the U.S. invasions of Afghanistan and Iraq — two failed military endeavors undertaken due to fabricated and false claims. Tenet served
According to Al Jazeera, "Bin Nayef, 57, has been interior minister since 2012 and has years of experience in intelligence work.
"He oversaw a crackdown on al-Qaeda, a group that killed security officers and foreigners in the kingdom between 2003 and 2007."
Bin Nayef vowed Saudi Arabia would continue to fight terrorism, and noted the Kingdom has thwarted a number of terrorist attacks, even against ally nations — though he didn't elaborate on the nature of these alleged attacks.
"We are surrounded by areas of conflict, and we were the first affected by terrorism from various sources, but we are equipped to combat terror in any place and under any circumstances," the crown prince claimed.
"The Kingdom has been keen to combat terrorism based on its conviction that terrorism has no identity and no religion, and from its belief that the terrorists are committing these acts stemming from their deviant ideologies and evil thought," bin Nayef asserted. "All negative religious, political and social ideologies that use religion as a tool throughout human history, do not reflect the absolute truth about religion."
While his statement certainly sounds legitimate, for the crown prince to dismiss Saudi Arabia's support for the world's enemy number one, Islamic State terrorists — not to mention the Kingdom's horrendous human rights record, thanks to Wahhabist Islam — is the epitome of hypocrisy.
Read More @ TheFreeThoughtProject.com
Help us spread the ANTIDOTE to corporate propaganda.

Please follow SGT Report on Twitter & help share the message.