by Michael Snyder, End Of The American Dream: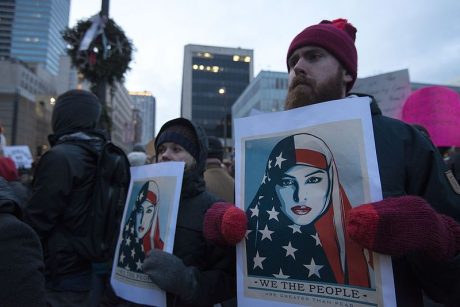 An "unholy alliance" between anti-Trump leftists and radical Muslims is beginning to emerge all over America. President Trump's recent executive order that restricted immigration from seven predominantly Muslim countries is bringing a very strange mixture of people out to street protests. On the one hand you have hardcore Muslims that are chanting "Allahu Akbar" and that believe that Islamic law will someday prevail over the U.S. Constitution, and on the other hand you have radical leftists marching right next to them that are protesting for "women's rights", "gay rights" and "civil rights". The ironic thing about all of this is that if the radical Muslims have their way, the leftists will either convert to Islam someday or will be completely destroyed. But for now they need one another, and so a very odd marriage of convenience has taken place.
Later on in this article I want to discuss the very unusual "I Am Muslim Too" protest that just took place in Times Square in New York City, but first I want to talk about what happened when the Nation of Islam held their annual meeting in Detroit over the weekend. It is being reported that thousands of people in the audience were enthusiastically chanting "Allahu Akbar" as Louis Farrakhan made his way to the stage, and Farrakhan made it abundantly clear to those assembled that he plans to oppose Trump every step of the way…
"
I'm here to talk to all of you who are shaking in your boots" over Trump being president, Farrakhan said. Imitating a person who's worried about Trump, Farrakhan said: "What are we going to do, the president is bad. He's the president and he don't like black people. He don't like Mexicans. He don't like Muslims."

Farrakhan then said: "Maybe so. Who cares? We don't give a damn what he likes or what he doesn't like.

"Have no fear … the future is ours. Time for the liberation of our people."
Perhaps it is not much of a surprise for thunderous chants of "Allahu Akbar" to be heard at a Nation of Islam conference, but you definitely wouldn't expect to hear the same thing in Times Square in New York City.
But that is precisely what happened on Sunday. According to the Daily Caller, an Islamic call to prayer during the "I Am Muslim Too" protest included the familiar phrase…
Sunday's anti-Trump rally in New York City featured a Muslim "Allahu Akbar" call to prayer and comparisons between President Trump and Adolf Hitler.

Hip-hop mogul Russell Simmons organized the protest meant to declare "Today, I am a Muslim, too," and protest Trump's travel ban on some majority-Muslim countries.

Simmons said in an open letter, "My friends, both Muslims and Jews, are saying there are so many comparisons between your rap and Hitler's, and I cannot disagree with them, Donald."
This protest attracted a large number of non-Muslim leftists, and when the Muslim call to prayer began the entire crowd became very, very quiet. If you have not seen footage of this yet, you can find it on YouTube right here…
On the one hand you can understand that they were trying to be respectful, but on the other hand one can't help but imagine how the leftists would have responded if Christian prayers had started to come through the loudspeakers.
Read More @ EndOfTheAmericanDream.com
Help us spread the ANTIDOTE to corporate propaganda.

Please follow SGT Report on Twitter & help share the message.