by Charles Hugh Smith, Of Two Minds: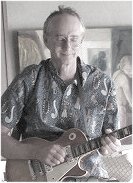 Profits are faltering for structural reasons that are not easily resolved..
The bedrock assumption of the Bull market is that corporate profits will keep rising indefinitely. Hiccups are allowed, but current stock market valuations are implicitly based on profits expanding.
The fly in the ointment here is corporate profits have been stagnating since 2014. Here is the St. Louis Federal Reserve (FRED) chart of pre-tax corporate profits: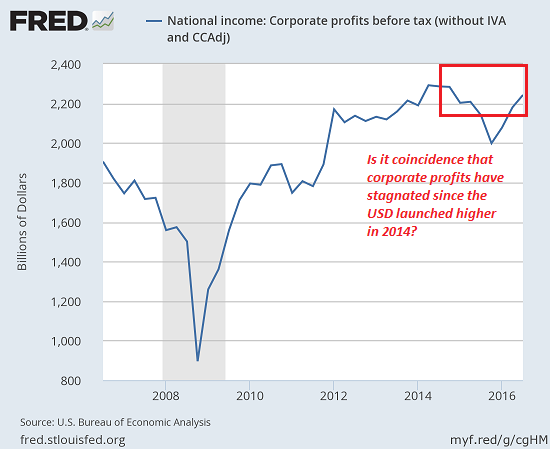 Is it just coincidence that profits have stagnated since the U.S. dollar strengthened in early 2014? Actually, there is a causal connection between the USD and corporate profits.
The majority of America's large corporations are global, and up to half of their sales and profits are earned overseas in other currencies.
Consider the impact of foreign exchange fluctuations on profits when converted to dollars. When the euro and the dollar were 1-to-1 back in the early 2000s, 100 euros of profit earned by U.S. corporations in Europe converted to $100 when stated in dollars.
When the euro strengthened to $1.40 (and the USD weakened accordingly), the same 100 euros of profit earned by the U.S. corporation in Europe converted to a $140 in profit when stated in dollars–a hefty 40% premium gained entirely as a result of the weak dollar.
So profits earned in euros soared 40%, not from rising sales or fatter margins, but as the direct result of a weak USD. Now the trend has reversed, and as I have been discussing for years, the USD is in a multi-year uptrend.
Which brings us to this FRED chart of the trade-weighted (broad) U.S. dollar index. Is it just coincidence that a strong dollar is correlated to recessions?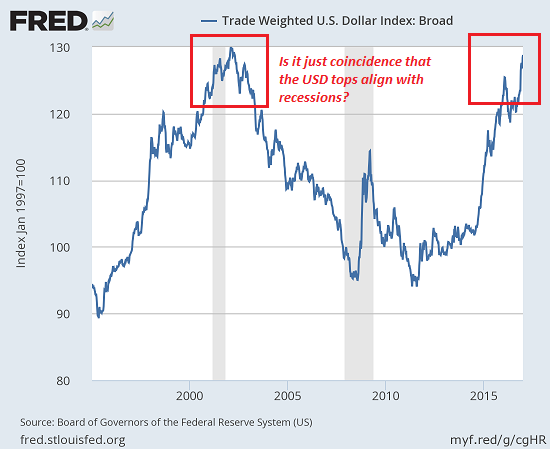 Given that profits earned in other currencies crumble when the dollar soars, it follows that there is a profits recession in strong-dollar eras, and that pressure on profits may contribute to an economy-wide slippage.
Help us spread the ANTIDOTE to corporate propaganda.

Please follow SGT Report on Twitter & help share the message.