by Wolf Richter, Wolf Street: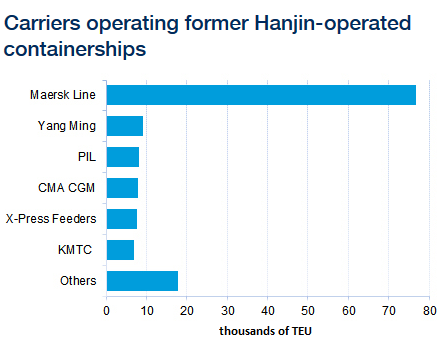 Bankruptcy reveals "opaque ownership." And freight rates surge.
When Hanjin Shipping Co. declared bankruptcy on August 31, 2016, the world's seventh largest container carrier, and the largest ever to go bankrupt, threw the shipping industry into chaos. Fully loaded ships were stranded at sea and in legal limbo. Supply chains were disrupted. Hanjin had been considered too-big-too-fail for South Korea, and the industry had relied on a bailout, but it was allowed to fail.
Now that Hanjin is being liquidated and that the logistical nightmares have cleared up, what happened to Hanjin's 98 containerships – and their "opaque" ownership?
And what happened to container freight rates? They'd plunged to historic lows in the spring of 2016, among rumors that they'd collapse to "zero," and had pushed already listing Hanjin to keel over entirely.
After Hanjin's bankruptcy, its 98 ships with a combined nominal capacity of 610,000 twenty-foot equivalent container units (TEU) joined the already massive global idle fleet as overcapacity has been dogging the industry. According to Drewry Maritime Research, the total idle capacity soared from 904,000 TEU in August before Hanjin's bankruptcy to a peak of 1.7 million TEU by mid-November. Nearly 9% of the global fleet was anchored somewhere, waiting for better days!
Since then, idle capacity has been dropping, "in large part due to some of those ex-Hanjin ships being re-chartered," according to Drewry:
So this is what happened to Hanjin's 98 ships:
4 smaller ships with a combined capacity of 15,000 TEU were scrapped. But only two of them were actually owned by Hanjin, the other two had been leased by Hanjin.
31 ships with a combined capacity of 134,000 TEU are now plying the seas for other carriers.
63 ships with a total capacity of 461,000 TEU remain idle.
Of those 31 Hanjin ships that have found new operators, only one had been owned by Hanjin.
The other 30 are owned by non-operating charterers such as Danaos, Kmarin, and Seaspan, and they've found replacement lessors, "presumably at considerably lower daily charter rates than Hanjin was paying." Maersk Line, the largest carrier in the world, has leased 11 of those 30 ships (combined 77,000 TEU).
These are the carriers that now operate 31 of the Hanjin ships, in thousands of TEU: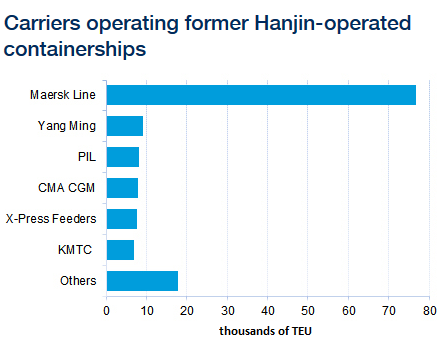 Help us spread the ANTIDOTE to corporate propaganda.

Please follow SGT Report on Twitter & help share the message.