by Pam Martens and Russ Martens, Wall St On Parade: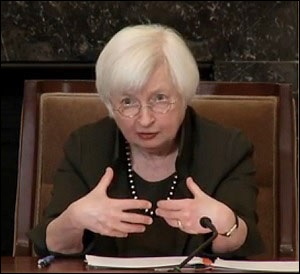 It was announced yesterday that Andrew Ceresney, the head of enforcement for the Securities and Exchange Commission (SEC) since 2013, would be returning to Debevoise & Plimpton as co-head of its litigation department – a nice promotion.
In 2009, one year into the biggest financial crash since the Great Depression, Debevoise & Plimpton's Ceresney was lead author, with two of his colleagues, of a lengthy article for the American Criminal Law Review titled: Regulatory Investigations and the Credit Crisis: The Search for Villains. Debevoise & Plimpton, both then and now, represents some of the largest Wall Street banks that have serially engaged in fraudulent conduct against the investing public. The article seemed to be suggesting that prosecuting these banks would be too labor intensive and the facts too hard to prove because the deals were too complex.
)
One paragraph reads as follows:
"The financial instruments and arrangements at issue in the credit crisis investigations are highly complex. In many of the areas being investigated, there simply may not have been intentional misconduct or criminally reckless behavior, but rather plain bad judgment on the part of market actors. Even in situations where there was wrongdoing, the time and resources required to mount investigations and the burden of proving intent to defraud are formidable obstacles for prosecutors and regulators to surmount, except in the most straightforward of fraud cases. In sum, in its search for credit-crisis villains, law enforcement may not be able to bring successful criminal or regulatory enforcement cases to punish wrongdoing, at least in connection with the most complicated areas of financial transactions involving the largest dollar amounts. At the very least, these investigations will be highly time and resource intensive…"
In 2013, when Mary Jo White, the then head of the litigation department at Debevoise was nominated by President Obama to Chair the SEC, she brought Ceresney along with her as co-head of enforcement. He took over as the full chief of enforcement in 2014. White has also recently departed the SEC but has not yet indicated where she will be working. (As we previously reported, White's revolving door has been spinning in and out of Debevoise & Plimpton and government jobs for 36 years.)
During the tenure of White and Ceresney at the SEC, not one top executive of a Wall Street bank has been prosecuted and most cases have been settled without an admission of guilt. In a June 2, 2015 letter to White, Senator Elizabeth Warren blasted the SEC for failing to live up to its mandate. Warren wrote that "records show that in 520 settlements, SEC required admissions of guilt in only 19 cases – less than 4 percent."
Read More @ WallStOnParade.com
Help us spread the ANTIDOTE to corporate propaganda.

Please follow SGT Report on Twitter & help share the message.