by Pam Martens and Russ Martens, Wall St On Parade: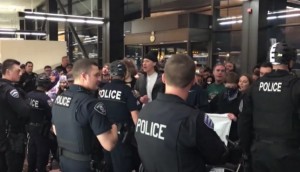 At 8:05 a.m. this morning in New York, futures on the Dow Jones Industrial Average were showing a potential loss of 55 points when the market opens at 9:30 a.m. At least some of the market jitters can be traced to the weekend of chaos at U.S. airports where legal residents of the U.S. found themselves in a twilight zone, unable to get back into the country as a result of President Donald Trump's hastily penned Executive Order. As media word spread of university faculty, Ph.D. candidates, medical students and business executives being denied reentry into the U.S. after visits abroad, spontaneous protests erupted at major international airports across the U.S. including San Francisco, Boston, Chicago, New York, Seattle, Los Angeles, and Dulles outside of Washington, D.C.
The chaos resulted from an Executive Order signed by Trump on Friday that bans the majority of refugees from coming to the U.S. for 120 days and suspends visas for persons from seven majority-Muslim countries: Iraq, Iran, Syria, Yemen, Sudan, Libya and Somalia.
There was an immediate outcry from CEOs of tech companies in Silicon Valley who have essential personnel working in the U.S. with visas. According to the National Foundation for American Policy, 51 percent of tech startup companies with a value of more than $1 billion had an immigrant as a co-founder. Google co-founder, Sergey Brin, joined protesters at San Francisco International Airport. Brin said he was protesting in his personal capacity as a refugee, not in his official Google capacity. Apple CEO Tim Cook and Microsoft CEO Satya Nadella expressed strong objections to the Trump order. Sam Altman, President of Y Combinator, also protested at the San Francisco airport and released a statement on his blog. He wrote that Trump's "precedent of invalidating already-issued visas and green cards should be extremely troubling for immigrants of any country or for anyone who thinks their contributions to the US are important. This is not just a Muslim ban. This is a breach of America's contract with all the immigrants in the nation."
The economic impact from banning college and university students from the targeted countries could also weigh heavily on U.S. prospects. The Washington Post reports that in 2015 "college students from overseas contributed more than $35 billion to the U.S. economy, according to the Commerce ­Department." (How many parents from any foreign country will want their children to attend colleges and universities in the U.S. when chaotic, draconian policies can be crafted on a Friday afternoon by executive action.)
The public outrage against the sudden order that left people stranded from their families and homes in the U.S. intensified after media reports indicated that neither the Department of Justice nor the Department of Homeland Security had been consulted on the Executive Order prior to Trump signing it on Friday.
Read More @ WallStOnParade.com
Help us spread the ANTIDOTE to corporate propaganda.

Please follow SGT Report on Twitter & help share the message.