by James Burgess, Wolf Street:
Precious metals are an important component of every investor's portfolio, and while gold often gets all the hype, another precious metal will be a much better bet in 2017: Silver.
The market for silver continues to tighten as supply has failed to keep up with demand for much of the past decade. Silver is used in all facets of modern life, including electronics, medical devices, engines, batteries, solar panels, LED lighting, semiconductors, touch screens, dentistry, and nuclear reactors. The list goes on.
Demand for silver is up by more than 35 percent since 2009, while supply only grew by a little more than 10 percent. In 2015 alone, global demand for silver exceeded supply by roughly 129 million ounces, or about 11 percent of overall demand. With silver consumption set to expand indefinitely, the supply deficit will continue to put upward pressure on prices in the years ahead.
The set-up here is fantastic because indications are that we are on the edge of another bull run at a time when silver mining stocks are significantly undervalued. Silver prices had a good run for most of 2016, but have fallen back in recent weeks as the dollar has strengthened and uncertainty surrounding the U.S. presidential election abated. But the pause in the run up in prices will be brief, offering investors an appetizing entry point for a crucial commodity in today's globalized economy.
Silver may be down from its 2016 peak of $20.67 in Q3, but it's up 12% for the year, and the sell-offs were based on sentiment, not fundamental reality—and this is exactly where smart investment finds opportunity. The strongest documented indication of this is the Q3 earnings of silver miners, which only the savviest of investors are picking up on. Pan American Silver (NASDAQ:PAAS) reported Q3 earnings of an impressive US$43.4 million—up US$9.2 million over the previous quarter—just for starters.
Silver mining costs have plunged and it's a brilliant time for a new silver company—Silver One (TSXV: SVE & OTC: SLVRF)—which has just acquired 100% interest in three silver plays in Mexico, the largest silver-producing country in the world. It also helps that Silver One has the strong support of a mining legend and has financing in place to move aggressively on exploration and development.#
In the pre-bullish environment, investors will be looking to developers in the right place at the right time who can cash in on low-cost mining to scoop up and develop new pure play properties.
We're sitting right now in the middle of an anomaly that fundamentals dictate will correct itself very soon. Once undervalued silver starts climbing higher again and capital starts pouring in, pushing prices higher, the low-buy opportunities will fade.
1. The Global Silver Lining: A Precious Metal Premium
Global investors are magnetically drawn to precious metals in times of uncertainty and instability. Global tensions are as high as they were in the 9/11 aftermath, when precious metals soared phenomenally as everyone hedged bets against global instability.
An incoming U.S. president who is inflation-bound will also give silver a boost—as will a definitive 'Brexit' orchestrated by the British prime minister, and the generally explosive global situation. When all else fails around us, silver (and gold) are the rising saviors.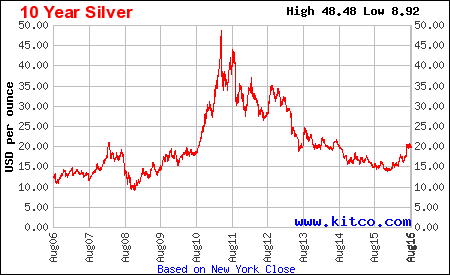 2. Mining Costs Plummeting
While average silver prices in the earlier bull run this year jumped from US$14.86 to US$20.67, the costs to produce it per ounce have dramatically dropped over the past four years, starting at US$22.26 in 2012, dropping all the way down to an amazing US$10.10 as of the end of September 2016.
This is the cushion that's not only kept silver miners from nose-diving in the post-election period, but has also kept them remarkably profitable.
But let's look at Mexico, specifically. If Endeavor Silver (NYSE:EXK) is anything to go by, we can see where Silver One might go. Endeavor owns three underground silver and gold mines in Mexico's Durango and Guanajuato states and saw its costs fall 24% to only US$11.47/ounce in Q32016, at a time when silver was going for upwards of US$19/ounce.
Keith Neumeyer's First Majestic Silver also realized an impressive all-in sustaining cost decrease of 27% to $10.52 per payable silver ounce on its Mexican silver production. First Majestic also realized an average silver price increase of 30% to $19.72 per ounce
Help us spread the ANTIDOTE to corporate propaganda.

Please follow SGT Report on Twitter & help share the message.