by Pam Martens and Russ Martens, Wall St On Parade: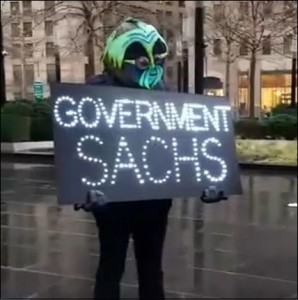 ometimes all it takes to win a war is a rallying cry. That cry started in the bowels of Wall Street on September 17, 2011 with the takeover of Zuccotti Park by grassroots protesters calling themselves Occupy Wall Street. The thunder clap from that movement, "we are the 99 percent," reverberated around the world. Occupy focused the public's attention on the insidious wealth transfer system that has been institutionalized by Wall Street on behalf of the 1 percent – a system which has minted dozens of billionaires and thousands of multi-millionaires while collapsing the U.S. economy from 2008 to 2010 and leaving millions of Americans homeless and jobless. (See our past coverage of Occupy in related articles below.)
Yesterday, green shoots from the Occupy movement sprouted in a light falling rain outside the headquarters of Goldman Sachs at 200 West Street in Manhattan – a building also built on the backs of taxpayers. (See Wall Street Firms Spy on Protesters in Tax-Funded Center.) Dozens of protesters from New York Communities for Change and supporting organizations turned out with signs and sleeping bags to set up an encampment to last through Donald Trump's inauguration on Friday. The rallying cry yesterday was "Government Sachs."
)
Using the same "mic check" system that was popularized by Occupy Wall Street, Jonathan Westin, Director of New York Communities for Change, explained the point of the protest. Westin told the crowd that the President-elect, Donald Trump, had run on a platform to drain the swamp. Instead, said Westin, Goldman Sachs, "the same people who crashed this economy" would be moving from "just lobbying from the outside" to "control our government. They will control Treasury; they will control the SEC; and they will control Donald Trump, unless we stop them."
Westin was referring to the seemingly endless stream of Goldman Sachs alumni and its current President who have been appointed or nominated by Trump for top positions in his administration.
Trump nominated Steven Mnuchin, a 17-year veteran of Goldman Sachs, to be his Treasury Secretary. Mnuchin's Senate Finance confirmation hearing, expected to be raucous, is scheduled for tomorrow, one day prior to Trump's inauguration. Stephen Bannon, another former Goldman Sachs banker, was named by Trump as his Chief Strategist in the White House. The sitting President of Goldman Sachs, Gary Cohn, has been named by Trump as Director of the powerful National Economic Council, which sets policy for both domestic and international issues.
In a recent move that shocked even veterans on Wall Street, Trump nominated a Goldman Sachs outside lawyer, Jay Clayton of Sullivan & Cromwell, to serve as Wall Street's top cop as Chairman of the Securities and Exchange Commission. Adding to the bad optics, Clayton's wife currently works as a Vice President at Goldman Sachs.
And then there is also Dina Powell, President of the Goldman Sachs Foundation, who is whispering in the ear of Trump's daughter, Ivanka Trump, a key member of Trump's transition team. Politico reports that Powell is a "top adviser on policy and staffing" to Ivanka.
Read More @ WallStOnParade.com
Help us spread the ANTIDOTE to corporate propaganda.

Please follow SGT Report on Twitter & help share the message.