by Pam Martens and Russ Martens, Wall St On Parade: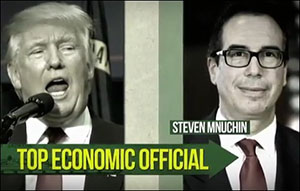 Over the span of the last two weeks, President-elect Donald Trump's U.S. Treasury Secretary nominee, Steven Mnuchin, has been the subject of multiple, scathing investigative reports by the media; earned a web site established by Senate Democrats dubbing him the "Foreclosure King" and soliciting complaints from the public; garnered a television ad campaign directed against him; and has been skewered by a devastating document leaked by someone currently or formerly connected to the California State Attorney General's Office, indicating that the bank Mnuchin ran from 2009 to 2015, OneWest, repeatedly violated California foreclosure law, including backdating documents and making illegal bids, in order to throw thousands of vulnerable people out of their homes.
Mnuchin is also a former Goldman Sachs partner and hedge fund operator who has never held public office before. His rapid rise to nominee for one of the highest posts in the U.S. government, which will also put him atop the Financial Stability Oversight Council (F-SOC), appears to be hinged to raising millions of dollars for Trump's political campaign as his National Finance Chairman. To millions of Americans, this looks like an unseemly political quid pro quo.
In a press release, Democratic Senator Jeff Merkley had this to say about the nominee:
"Donald Trump's choice of Mnuchin is not only a fundamental betrayal of his promise to stand up to Wall Street — it is a punch in the gut to the thousands of American families who were thrown out of their homes by Mnuchin's bank. The voices of these Americans should be heard loud and clear as the Senate examines his record and considers his nomination."
Senator Bernie Sanders weighed in with this:
"During the campaign, President-elect Donald Trump told the American people that he was going to change Washington by taking on Wall Street. But now that the election is over, Donald Trump's choice for Treasury Secretary is the same old, same old Wall Street insider who made a fortune during the financial crisis as millions lost their homes. If confirmed, Steve Mnuchin would be the third Treasury Secretary to come from Goldman Sachs in the last 17 years. That is not the type of change that Donald Trump promised to bring to Washington — that is hypocrisy at its worst. The last thing we need is another Treasury Secretary from Goldman Sachs and another broken promise from Donald Trump."
The negative television ads being run by the progressive group, Allied Progress, end with this statement: "We need a Treasury Secretary who will help us, not himself."
Read More @ WallStOnParade.com
Help us spread the ANTIDOTE to corporate propaganda.

Please follow SGT Report on Twitter & help share the message.