by Stefan Stanford, All News Pipeline: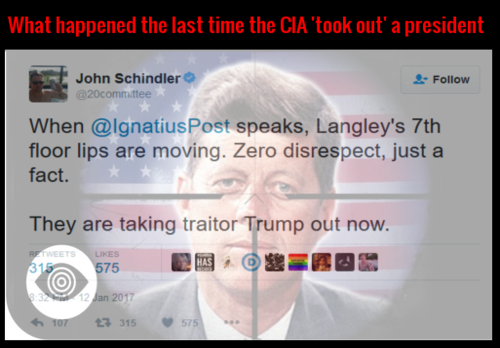 The new story from Kristinn Taylor over at the Gateway Pundit reports that according to former 'spook' John Schindler, the CIA is trying to 'take out' president-elect Donald Trump before he's sworn into office in 6 days.
Schindler's warning, coming soon after New York Senator Chuck Schumer warned Trump 'intelligence agencies have 6 different ways from Sunday at getting back at you', had thoughts of John F. Kennedy in Texas on November 23rd of 1963 immediately coming to mind.
The Gateway Pundit story joins a huge number of recent stories from across the internet that warn of possible chaos and turmoil ahead in the coming week as the 'heads of globalists and liberals' metaphorically explode with Trump coming into office in 6 days. With calls for martial law and a 'national emergency' to stop Trump from taking office continuing to ramp up while anarchists plans to shut down the inauguration turn towards violence, the recent story that the commanding General of the DC National Guard will be stepping down precisely at 12:01 pm on Friday is at least highly unusual if not outright alarming.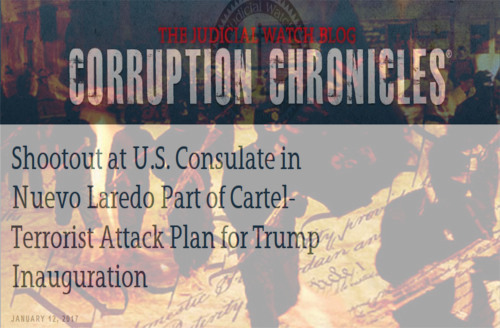 And while the sitting head of the Department of Homeland Security, Jeh Johnson, has stated that the government sees no immediate or credible threats to Trump's inauguration on Friday according to this Yahoo News story, anybody who's been paying attention knows that may not be the 'whole truth' or is outright preparing cover up for 'an event' to take place that day.
As high level law enforcement and intelligence officials recently told Judicial Watch, Islamic terrorists have plans on attacking America during the period of Trump's inauguration. Warning us of a 'broad operation between Islamic terrorists and Mexican drug cartels to send President-elect Donald Trump a message by engaging in attacks at border ports and in American cities' in the coming days, does Obama's DHS not have the same information and sources? Or, are we now witnessing preparation for another massive false flag and a 'cover up beforehand' in play? You can hear more about the Judicial Watch story in the 2nd video below.
As Susan Duclos reported on ANP on Friday, the left is having a major meltdown with Trump coming into office with the mainstream media seemingly attempting to push America into a civil war here upon US soil over Trump while the war against independent media rages on. With the globalists going so far as attempting the Orwellian moves of criminalizing free speech while labeling truth 'propaganda', we smell something really nasty in the works, coming straight to America from Washington DC and Langley, Virginia. To say we're getting a bad feeling about this week would be an understatement. We pray that this intuitive feeling is wrong.
Read More @ AllNewsPipeline.com
Help us spread the ANTIDOTE to corporate propaganda.

Please follow SGT Report on Twitter & help share the message.