by Pam Martens and Russ Martens, Wall St On Parade: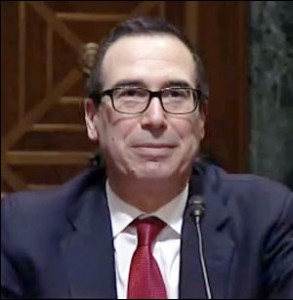 Most Americans are unaware that the Pension Benefit Guaranty Corporation, the Federal body that stands behind corporate pension plans known as defined benefit plans, has only three members and three votes on its Board of Directors: the U.S. Labor Secretary, the U.S. Commerce Secretary and the U.S. Treasury Secretary. Under the Donald Trump administration, all three votes could be problematic for workers'pension interests if Trump's current nominees are confirmed by the U.S. Senate.
Andrew Puzder is Trump's nominee for Secretary of the Labor Department. Puzder is already on record as opposing a substantial increase in the Federal minimum wage and an opponent of making more workers eligible for overtime pay. Much less is known about Puzder's eyebrow-raising earlier career. From 1978 to 1991, Puzder was a trial lawyer in St. Louis at the law offices of Morris A. Shenker, the man Life Magazine called the "foremost lawyer for the mob in the U.S." According to the book, The Money and the Power, by Sally Denton and Roger Morris, a colleague of Shenker's called him the "front man for the St. Louis Mob." The book reports that Shenker took over the Dunes Hotel and Casino in Las Vegas and remained its Chairman until 1984. Shenker was indicted in 1989 but did not stand trial due to serious health issues. He died the same year he was indicted at age 82.
Puzder came to his current position as CEO of the fast food chain, CKE Restaurants, by virtue of being its top corporate lawyer. After working with the mob's lawyer in St. Louis for 13 years, and other legal stints along the way, Puzder became General Counsel for CKE Restuarants in 1997 and moved into the slot of CEO in 2000.
The controversial Steven Mnuchin, who was subjected to withering criticism by Democrats on the Senate Finance Committee during his confirmation hearing last Thursday to become U.S. Treasury Secretary, will be the second vote on the Pension Benefit Guaranty Corp. That raises even more alarm bells. Mnuchin has garnered the reputation of a cold-hearted foreclosure king who got rich on the misery of the poor and elderly. He has even earned an ad campaign against his confirmation.
The Ranking Member of the Senate Finance Committee, Senator Ron Wyden, a Democrat from Oregon, had this to say about Mnuchin in his opening comments at Mnuchin's confirmation hearing:
Read More @ WallStOnParade.com
Help us spread the ANTIDOTE to corporate propaganda.

Please follow SGT Report on Twitter & help share the message.