by John W. Whitehead, The Rutherford Institute: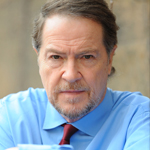 For too long now, the American people have allowed themselves to be persuaded that the government's job is to take care of us: to feed us, clothe us, house us, educate us, raise our children, heal our infirmities, manage our finances, protect us from our enemies, guard us against all dangers (real and imaginary), and provide for our every need.
Where Americans go wrong is in failing to recognize that there's always a catch to such devil's bargains purportedly carried out for the good of all society.
You want free education for your children? The government can take care of it. In exchange for free public schools, however, your children will be molded and indoctrinated into compliant, obedient citizens who reflect the government's values rather than your own.
You want free health care? The government can take care of that, too. In exchange, your medical decisions—how you live and die—will ultimately be determined by corporations to whom you are little more than a line item impacting their profit and loss margins.
You want to be insulated from all things that might cause offense? That's not a problem for the government. Its thought police will use hate crime laws to criminalize speech, thought and actions that may be politically incorrect.
You want a guarantee of safety? Sure, but your local police will also have to be militarized and trained in battlefield tactics, your communities and communications will be subjected to round-the-clock surveillance, and you—the citizenry—will be treated as suspects and enemy combatants.
You want to root out domestic extremism and terrorism? That's just fine. But in the process of identifying and targeting terrorists, the government will have the power to label anyone who disagrees with its policies as an extremist/terrorist and subject them to indefinite detentions.
Are you starting to get the picture?
This is the terrible price—the loss of our freedoms and the enslavement of future generations—that must eventually be paid for the goods and services rendered by a government whose priorities are the acquisition of ever-more power, control and money.
As the old adage warns: "A government big enough to give you everything you want is a government big enough to take away everything that you have."
Unfortunately, we've been on the receiving end of the government's taxpayer-funded handouts—and its deceptively well-intended dictates—for so long that many Americans have forgotten what it is to think for themselves, provide for themselves, and govern themselves.
Indeed, this age of entitlement is a far cry from the kind of constitutional republic America's founders envisioned.
Gone is the proud, independent-minded, pioneering spirit of early Americans like my parents who rejected what they called "hand-outs," worked hard for whatever they had, protected their homes and families, and believed the government's job was to govern based on the consent of the governed and not dictate.
Contrast those fiercely-independent, early Americans who took to heart James Madison's admonition to distrust all those in power with today's citizens who not only expect the government to care for their needs but have blindly entrusted the government with vast, growing powers.
By giving the government the green light to act in loco parentis and treat the citizenry as children in need of caretakers, "we the people" have allowed ourselves to be demoted and infantilized, reduced from knowledgeable, independent-minded, capable masters of a republic to wayward, undisciplined, dependent, vulnerable children incapable of caring for ourselves.
It's time to grow up.
Incredibly, despite the fact that we allowed the government to become all-knowing, all-powerful and all-mighty in the mistaken belief that it would make our lives safer, easier and more affluent, we're still shocked when that power and might is used against us.
It's time to stop being so gullible and so trusting.
Even when the headlines blare out the news about SWAT team raids gone awry, police shootings of unarmed citizens, roadside cavity searches of young women, children being shackled and tasered, and Americans jailed for profit in private prisons, we still somehow maintain our state of denial until suddenly we're the ones in the firing line being treated like suspects and criminals, having our skulls cracked, our doors smashed, our pets shot, our children terrorized, and our loved ones jailed for non-offenses.
It's time to remove those rose-colored, partisan-tinted glasses and wake up to the fact that our nation of sheep has given rise to a government of wolves.
Even though, deep down, we have suspected that the system is run by an elite who views the citizenry as little more than cattle destined for the slaughterhouse, we're still shocked to find ourselves treated like slaves and economic units.
How could we not have seen it coming?
Help us spread the ANTIDOTE to corporate propaganda.

Please follow SGT Report on Twitter & help share the message.