by Mark O'Byrne, GoldCore: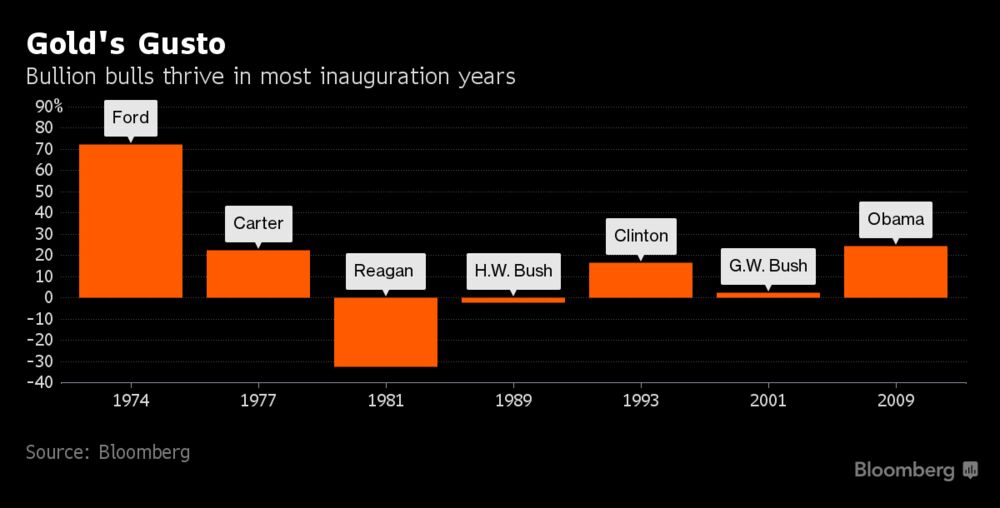 – Gold's average gains in inauguration years of 15% since 1974
– First year of new President frequently a time of increased uncertainties and risks
– Gold rose 30% in the 12 months after Obama inauguration
– Massive political uncertainty – President's conflict with the CIA
– 'Strong dollar policy' to end as U.S. has $120 trillion plus debt
– Trump inherits Bush and Obama's humongous debt
Gold performs well in inauguration years (see table) and has seen average gains of 15% in inaugural years since the 1970s.
Given the degree of uncertainty, divisiveness and conflict that Trump's election has already created – both in America and internationally, it seems almost certain that the many risks as President Trump takes power will lead to higher gold prices.
Besides the myriad of risks today and arguable the most uncertain geo-political situation since World War II or the height of the Cold War, gold investors and buyers can look to Presidential history, as gold has recorded has average gains of 15% in inaugural years since 1974.
This may be due to the fact that the first year of many administrations is frequently a time of significant change and increased uncertainties and risks. Markets are concerned that the US presidential handover and advent of President Trump will lead to volatility and turmoil in 2017 which will likely impact risk assets such as stocks.
The price of gold has already gained 5% this year and appears to be consolidating just above US$1,200 an ounce today. Investors can take a look at history for signal and indications as to how gold and stocks might perform this year.
Bloomberg points out:
A look at recent presidential transitions supports optimism among traders over the metal's prospects. Gold has averaged gains of almost 15 percent in years marking the inauguration of a new president since the 1970s, advancing in five of those seven years.

In contrast, the S&P 500 index of equities declined in four of those years for an average loss over the period of 0.9 percent.

From Presidents Gerald Ford to Barack Obama, bullion has often served as a haven in times of political flux.

The metal has climbed about 5 percent this year as questions over the possible economic impact of Donald Trump's policies add to investor angst over Brexit and mounting trade frictions. Bulls reason that gold will extend its gain as scant details of Trump's fiscal stimulus program and tensions with trading partners including China unnerve investors.
Axel Merk of Merk Investments LLC told Bloomberg that
"We have no idea what's going to happen with some of Trump's policies — everybody is a little nervous…"

"Gold is relatively undervalued and will push higher."
Like Trump or loathe him, most would acknowledge that his recent press conference, ill judged tweets and recent transition to power has been a complete mess.
Trump time … Let the games begin
Today is "T day" or "Trump day" as the world awaits the inauguration and advent of Donald Trump as President of the United States. The eyes of the world are on Washington and traders and investors will be keeping an eye on the U.S. stock and bond markets, the dollar and gold.
Trump's first speech as President, expected some time after his swearing in at 1700 GMT, may see President Trump offer more detail on his fiscal and economic policies, especially infrastructure spending and taxation, in addition to trade policy.
Help us spread the ANTIDOTE to corporate propaganda.

Please follow SGT Report on Twitter & help share the message.