by Mark O'Byrne, GoldCore: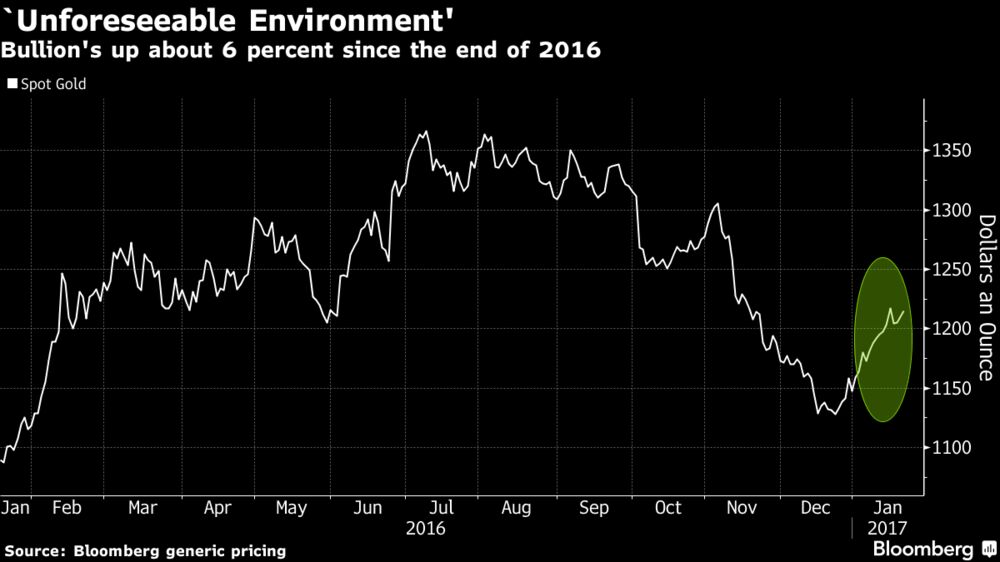 Gold price to 2 month high as fiery Trump declares New American Order
– 'Trumponomics': Politics and economic policy in 140 characters
– The 'intelligence' according to Trump
– Trump, Putin and Russia – the great bromance
– Trump – Bull in a China shop
– Trade and currency wars with China and other nations
– Trump – Fan of gold and golden tweets
– Conclusion – Trump may be the 'Golden Ticket'
by Jan Skoyles, Editor Mark O'Byrne

On Friday Donald J Trump became the 45th President of the United States of America.
Gold prices were surprisingly muted on Friday but did begin to rise towards the end of trading and rose from below $1,200 to over $1,212 per ounce before closing slightly lower at $,207.60 per ounce.
Gold is looking very healthy technically and has risen for four weeks in a row and reached a two month high this morning at $1,219.43 per ounce – its highest since November 22nd. According to Bloomberg holdings in gold-backed ETFs climbed for the fifth day in a row by 0.9 tons.
Gold is gaining on increasing investor concern about the Trump Presidency and uncertainty regarding what is set to be his radically different term in office. The dollar has continued to weaken as markets prepare for major changes to US trade, economic and foreign policies.
The British pound has hit a five week high, along with the yen and 10 year US Futures. Shares fell across most markets, the dollar fell 0.5%, which RBS Capital markets blame on "the lack of economic policy detail in President Trump's inauguration speech coupled with concerns over his potential protectionist stance."
Help us spread the ANTIDOTE to corporate propaganda.

Please follow SGT Report on Twitter & help share the message.