by Aaron Klein, Breitbart: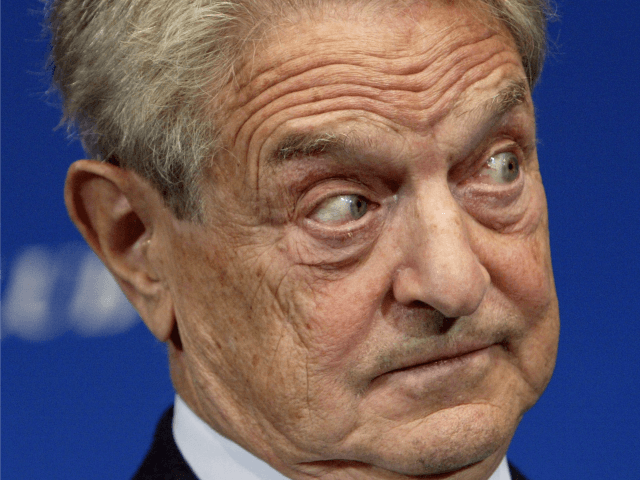 One need not look too deeply to discover the two groups behind the movement to impeach Donald Trump are tied to billionaire George Soros, while the organization that just filed a lawsuit challenging the Constitutionality of Trump's presidency is financed by Soros's Open Society Foundations.
On Monday, the Citizens for Responsibility and Ethics in Washington (CREW) filed a lawsuit claiming that Trump is in violation of a Constitutional clause banning government officials from accepting benefits from foreign nations.
Politico reported:
The suit, backed by several prominent Constitutional scholars, claims that Trump's business dealings with foreign countries who rent space in his buildings or lend money to his real estate ventures run afoul of the foreign emoluments clause.

"President Trump has made his slogan 'America First,'" CREW's Noah Bookbinder said in a statement. "So you would think he would want to strictly follow the Constitution's foreign emoluments clause, since it was written to ensure our government officials are thinking of Americans first, and not foreign governments."
CREW describes itself as an organization that utilizes "high-impact legal actions to target government officials who sacrifice the common good to special interests."
CREW, which does not publicize its donor list, has received financing from Soros's Open Society Foundations. According to Discover the Networks, CREW has also been funded by the Soros-financed Tides Foundation.
In August 2014, longtime Hillary Clinton ally David Brock, founder of the heavily Soros-financed Media Matters for America progressive group, was elected chairman of CREW's board.
Brock departed the organization last December, but Politico reported over the weekend that CREW is part of a network of groups for which the activist is attempting to raise $40 million to take on Trump.
Help us spread the ANTIDOTE to corporate propaganda.

Please follow SGT Report on Twitter & help share the message.