from Rogue Money: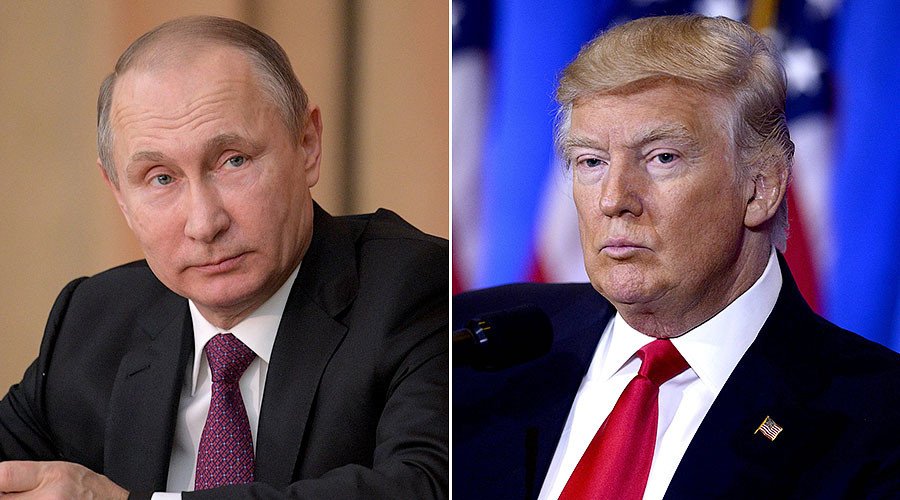 Reading the Tea Leaves, and Even the Warming Tone of Russian and American 'Deplorable' TV from Rossiya to Fox News, That U.S.-Russia Detente is in the Offing
The Russia Analyst strongly suspects, like the reported 'torture' and black site memos, that some of these documents are being deliberately generated by mainline George W. Bush era Republicans brought into the Administration to sabotage Trump out of the gate. Trump is issuing executive orders at a rapid pace in order perhaps, to overwhelm his opponents and their legacy media news cycle outrage meters, as well as to demonstrate his will to get off to a fast start during the first 100 days of his Administration. On the other hand, British Prime Minister Theresa May during her speech at a Republican conference in Philadelphia, PA compared the US-UK Special Relationship she envisions between her government and the Trump White House to that of Ronald Reagan and Margaret Thatcher, who helped to negotiate the end of the first Cold War with Soviet leader Mikhail Gorbachev
'I don't know #Putin, but if we can get along with Russia that's a great thing' – #Trump https://t.co/6WmvIJcSQk pic.twitter.com/2OAohTJzxR

— RT (@RT_com) January 27, 2017
Another likely related development noted by Dr. Joseph P. Farrell, V the Guerrilla Economist and the RogueMoney team — a rising, and perhaps coordinated anti-George Soros movement emerging from Hungary to the former Yugoslav Republic of Macedonia to the USA (see this piece published by the Trump Admin friendly New York based City Journal). Can these be taken together as signs that detente is in the wind, even the rollback (as RM guest London Paul says) of the globalist cabal that instigated Cold War 2 through regime changes in Libya, Ukraine and a massive attempt via proxy war to topple the Russian/Iranian backed Syrian government?
CHINA: Beijing says it it supports Russian proposal for trilateral dialogue between US, China and Russia to address global security issues

— The Int'l Spectator (@spectatorindex) January 26, 2017
We will see soon enough how determined Trump is to use his executive authority to rollback Obama's Russia-related (not Congressionally-mandated sanction) E.O.'s in the teeth of the furious neolibcon and Atlanticist/globalist Establishment opposition from Sen. John McCain (R-AZ) and others. Trump reportedly has a phone call, his first as president, scheduled with German Chancellor Angela Merkel as well Saturday night.
Only few days after #Trump became president, #US already joined forces with #Russia against #ISIS. Intelligence sharing at its finest. https://t.co/bLYkqx376z

— Sergey Bobkov (@sbobkov) January 23, 2017
Given a hostile, orchestrated media campaign in Germany and indeed from the EU itself against Trump and the televised/viral video joke by Josef Joffe, the longtime Establishment Atlanticist editor of Die Zeit about assassinating the new president, the Putin-Trump conversation could be significantly warmer than that between the two nominally NATO allied heads of state. Expectations for any breaking of the ice between Trump and Merkel remain low, while Russian TV seems cautiously optimistic that Trump intends to follow through on his campaign promise to improve relations with Moscow if at all possible.
It should also be noted by us, that while the electronic and physical print neolibcon media remains overwhelmingly hostile to Trump's proposed 'bromance' if not secret Siberian candidate mind controlled desire for detente with Putin, that the most watched news programs of Fox and Rossiya (First Channel/Pervy Kanal) in both countries seem to be setting the stage for a Reagan-Gorbachev type summit. Certainly, while Fox is more grudging in its acknowledgement that Russian 'TV propaganda' seems less 'anti-American' than before, Rossiya has indeed been lavish in its praise of The Donald as a man of action, scarcely troubled only by the carping of the Establishment or the idiocy of the 'Women's March' and Hollywood:
Help us spread the ANTIDOTE to corporate propaganda.

Please follow SGT Report on Twitter & help share the message.