by Stefan Stanford, All News Pipeline: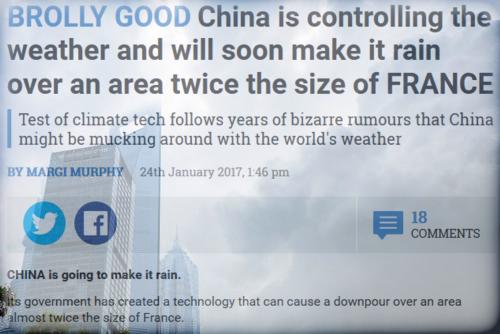 While the mainstream media will continue to destroy itself by claiming that 'weather modification' is something only spoken about by 'tinfoil hat wearing conspiracy theorists' or outright call it 'fake news', this new story from The Sun via the nation of China itself should forever put an end to the fake news claim that man cannot control the weather.
Warned of by Steve Quayle many years ago in his book "Weather Wars & Un-Natural Disasters", those who've ridiculed should be eating crow now. With China announcing they will make it rain over an area twice the size of France, proving to the world once and for all that weather modification does indeed exist, we remind you that Quayle warned of this long ago, stating: "Technology will make available, to the leaders of the major nations, techniques for conducting secret warfare, of which only a bare minimum of security forces need be appraised… Techniques of weather modification could be employed to produce prolonged periods of drought or storm."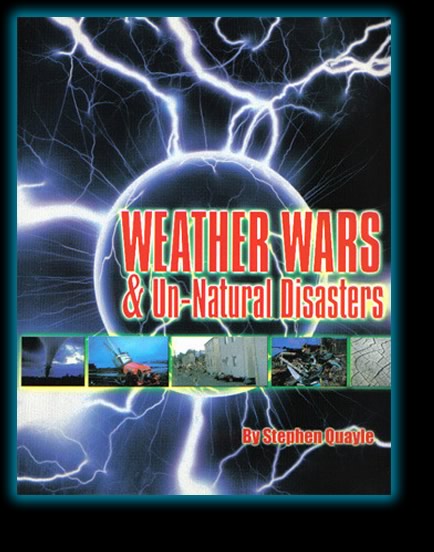 For those who are still 'awakening', further proof can be found documented on the Geoengineering website of Dane Wigington who shares with us nearly 100 years of weather modification patents and documents, proving that 'the gatekeepers' have been lying to the American people for a very, very long time.
We've also previously reported on the US Air Force's "Weather As A Force Multiplier – Owning The Weather In 2025" which can be found itself right here. In the first video below, the Daily Sheeple talks with us about this bombshell proof coming to us straight from China, of all places, that weather modification and 'man attempting to play God' is reality, not some tinfoil-hat conspiracy theory.
As we reported back in July of 2016, even former CIA Director John Brennan recently admitted during a talk with the Council on Foreign Relations that technologies were available to help reverse global warming. Telling the CFR that some nations might not be too happy about the use of SAI's (strategic aerosol injections is what they call 'chemtrails') as the use of them were able to change weather patterns, providing bountiful crop-producing weather to some regions while delivering devastating drought to others, Brennan confirmed what many of us have known for a very long time but the masses still call 'conspiracy theory'. How many more 'conspiracy theories' are correct as well?
There is also a brand new documentary out now called "Overcast" which was worked upon for almost 7-years and documents the ongoing geoengineering programs that are going on over our heads. Documenting the thousands of hours of research was done, Overcast conducted over 40 interviews across 10 different countries with the intention of proving that geoengineering exists in order to begin the process of stopping these ongoing worldwide crimes.
OVERCAST incorporated both sides of the controversy, the debunkers and established scientists as well as the activists. The film brilliantly shows how the debunkers debunk themselves with their limited argumentation and lack of scientific data.
Read More @ AllNewsPipeline.com
Help us spread the ANTIDOTE to corporate propaganda.

Please follow SGT Report on Twitter & help share the message.