from Henry Makow: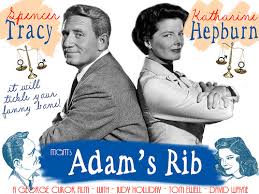 The main message of the movie 
is that "man is evil and weak, 
and woman is strong and virtuous, 
so women don't need men".
Because of their media control, society is unaware that Masonic Jews (Communists) and their homosexual helpmates have been subverting Western society for more than a hundred years. Adam's Rib,(1949), written by Jews and directed by a homosexual, made men and women deny their gender identity.
How many millions of lives were ruined by this satanist  social engineering? How many marriages broken? How many children grew up without fathers? How many women without husbands? Men without wives? These evil bastards continue to sabotage society today.
ADAM'S RIB: A FEMINIST GENDER BENDER FROM 1949
by Anon
(Abridged by henrymakow.com) 
Why am I writing about a movie from 68 years ago that most people have forgotten?  Because it shows that the Golden Age of Hollywood was not really "sweet and innocent" at all.  It helps to answer the questions "how was our society destroyed?" and "where did it begin?"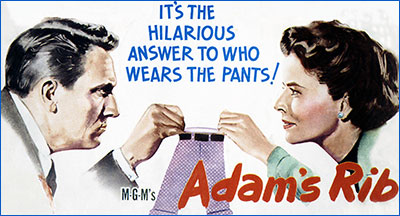 Adam's Rib is a feminist gender bender movie from 1949.   Notice that the title is Biblical but the movie is Anti-Biblical. This tricked conservatives into thinking that it was a safe movie to watch.
The plot involves a woman who shoots her unfaithful husband and puts him in critical condition but is found "not guilty" by a court of law.
A lawyer (Spencer Tracy) is assigned to represent the man in court.   His wife (Katherine Hepburn), instead of supporting her breadwinning husband who lavishes her with gifts, thinks it is fun to compete with her husband and to ridicule him in court. "Ridicule is man's most potent weapon" -radical communist Saul Alinsky.
The lawyer's reaction is to yell "I wanted a wife, not a competitor!"
MODELLING DYSFUNCTION AND SELFISHNESS
His liberal wife does not cook, clean, nor raise any children.   She spends her time drinking, smoking, and going to fancy restaurants.  And insulting and goading her conservative husband whenever he disagrees with her.
When her husband gives her a fancy hat, she gives it away to her client accused of attempted murder.
She effortlessly gets a job as a lawyer on a whim.
Although the accused woman shoots her husband, she is portrayed as a "good-hearted victim" who was protecting her family, while her cheating husband is portrayed as a selfish boor who never mentions his children once.

The victim of the shooting is mocked by transforming into a woman.
All men in the film are mocked except for an effeminate songwriter.
The cheating husband is played by Tom Ewell, who would continue his promotion of adultery in The Seven Year Itch with Marilyn Monroe six years later, in 1955.
During the court testimony in Adam's Rib, we hear that the accused beats her husband as often as he beats her. Even in abuse, they are portrayed as equals.
As the lawyer's wife gives him a massage, she slaps him.  But when he gives her a massage and slaps her, she is offended.  There are two sets of rules:  Although they are "equals", she can do things that he is not permitted to do.  "Some are more equal than others" -George Orwell.
When the lawyer's wife asks the jury to picture a role reversal, two women morph into effeminate men and the man morphs into an ugly woman. All three are shown dressed in drag, promoting transvestism and transgenderism.
At the beginning of the movie, women had cried repeatedly to manipulate men.   By the end of the movie, the man turns on the tears to manipulate his wife. Their roles have been reversed.
Throughout the movie, a neighbour plays the song "Farewell Amanda" on the piano, foreshadowing the couple's eventual split up and divorce proceedings.
The song was written by homosexual occultist Cole Porter (Scroll and Key).   The effeminate piano-playing joker in the movie is a dead ringer for Cole Porter, too.   He mocks the husband at every opportunity and hits on his wife right in front of him.   The husband lets it go.   He is too weak to defend his wife.
In the final scene, the angry husband points a gun at his wife and her effeminate male lover.
The male lover cowers in fear behind the wife as she shields him.
The husband bites into his licorices gun.   He has proven that a pre-meditated gun attack would not be a justifiable "crime of passion" after all.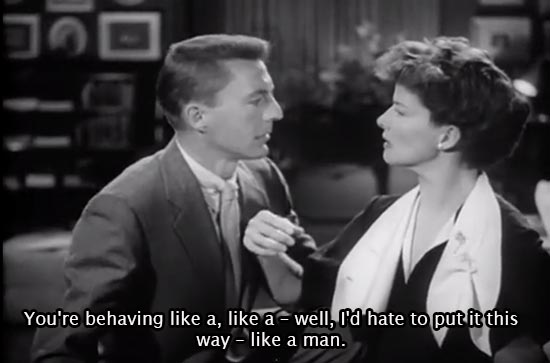 When Katherine Hepburn states that men and women are "exactly the same", Spencer Tracy says "Well, not quite exactly".  In other words, men and women are identical except for their physiology.
Both the lawyer and his wife call each other "Pinky", hardly a manly moniker.   Once again they are portrayed as almost identical equals.
The husband is continually made to look like a fool.   He jumbles his lines, he bumps his head, and he gets lifted in the air by a woman in court who is clearly much stronger than he is.   Everyone thinks it is hilarious. "A good tactic is one your people enjoy" -Saul Alinsky.