by Stefan Stanford, All News Pipeline: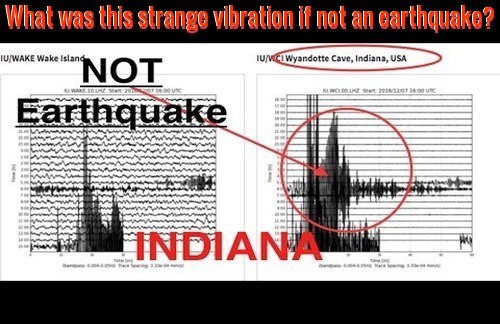 More than 8 hours after the massive earthquakes on Thursday of magnitudes 7.8 in the Solomon Islands and 6.5 off of the coast of California, seismograms from all across the entire world still showed our planet ringing like a bell. And while that is often expected after such an enormous earthquake, as videographer MrMBB333 points out in the first video below, hours before the massive Solomon Islands earthquake struck, a mysterious vibration was detected on seismographs all across the planet as our videographer proves to us using charts from the USGS.
Looking like a classic earthquake on the USGS monitoring charts, there were NO earthquakes reported during the time period this mysterious vibration/pulse anomaly showed up on the govt charts for almost an hour, showing up not only all across America, but all across the Earth.
As Michael Snyder asked in his new story over at Activist Post, why is our planet shaking so violently all of a sudden? With dozens of significant earthquakes across the ring of fire in the last month, even experts aren't quite sure what to make of all of this recent shaking. We are also quite sure the MSM will never report upon the 'mysterious vibration' detected all across the planet, probably calling it 'fake news', despite this anomaly being detected on this official US government website as documented in the first video.
And as we hear in the 2nd video below from our same videographer, he clearly pointed out back on December 1st that seismograms then were showing some kind of a global disturbance. As our videographer told us then, the Earth's core appears to be getting restless. Using the same official USGS charts, our videographer proves to us that something very, very strange has been happening to our planet with mysterious vibrations felt around the planet seemingly coming straight from the center of the Earth.
Much more below these videos including the 3rd video from Wochit News reporting upon the alarming string of earthquakes that have struck our planet recently as well as the final video, a new video from TruthUnveiled in which our videographer looks at not only these recent earthquakes, but several other news stories that have been reported over the last several months leading our videographer to ask if the 'big one' is coming.
We also take a look below at a recent report coming to us from California and an update on the strange sounds that have been heard across America and around the world recently. Might these mysterious sounds be tied to the mysterious vibrations? Might they also be responsible for some of the recent mass deaths of migratory birds in several different locations across our planet?
As we learn in this story from Fox News about what's been happening in California recently, experts once believed that the 800-mile long San Andreas fault would only rupture in segments – they're now concerned that it could all go at once. Detailing an 'alarming scenario of destruction', Fox News reports:
For years, scientists believed the mighty San Andreas—the 800-mile-long fault running the length of California where the Pacific and North American plates meet—could only rupture in isolated sections.
Read More @ AllNewsPipeline.com
Help us spread the ANTIDOTE to corporate propaganda.

Please follow SGT Report on Twitter & help share the message.