by Steve St. Angelo, SRSRocco Report: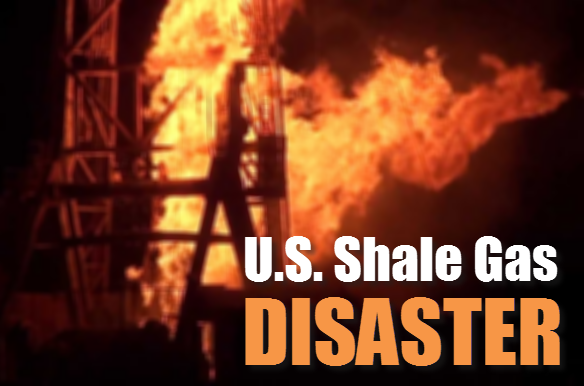 The countdown has started as the demise of the great U.S. shale gas industry has begun. This will have a disastrous impact on the U.S. economy as shale gas production declines in a big way. Unfortunately, very few Americans understand how sickly the domestic shale gas industry truly is, because they have been brainwashed to believe the United States is heading towards energy independence.
For the U.S. to become energy independent, it would have to add at least another five million barrels per day of oil production. At the peak in February 2015, the U.S. shale oil industry produced a little more than five million barrels of oil per day. However, the real problem is not the doubling of U.S. shale oil production, rather it's being able to make a profit in the process
2The U.S. shale oil and gas industry hasn't made any real money since 2009. This is especially true for one of the largest natural gas producers in the United States. Chesapeake Energy, which is the second largest natural gas producer in the country, hasn't made a lousy nickel for at least the past ten years:

This table comes from the website, gurufocus.com. If you click on the Chesapeake Free Cash Flow link at gurufocus.com, you will see the very same table by scrolling down the page. According to gurufocus, their definition of Free Cash Flow is the following:
Free Cash Flow is considered one of the most important parameters to measure a company's earnings power by value investors because it is not subject to estimates of Depreciation, Depletion and Amortization (DDA). Over the long term, Free Cash Flow should give pretty good picture on the real earnings power of the company.
As we can see in the table above, Chesapeake Energy is completely in the RED as it pertains to free cash flow or real profits since 2006. This is quite an amazing accomplishment from the second largest natural gas producer in the country. You would think, being BIG would guarantee profits. I gather someone forgot to tell Chesapeake's management the important financial tidbit called, "Economies of scale."
To get an idea of the top five natural gas producers in the United States, I listed them below.
Top 5 U.S. Natural Gas Producers (Data from Natural Gas Supply Association):
[Figures shown in billion cubic feet per day]
ExxonMobil: 3.105 Bcf/day
Chesapeake: 2.971 Bcf/day
Southwestern: 2.208 Bcf/day
Andarko: 2.164 Bcf/day
EQT: 1.855 Bcf/day
I took the data for Chesapeake's free cash flow and made the chart below: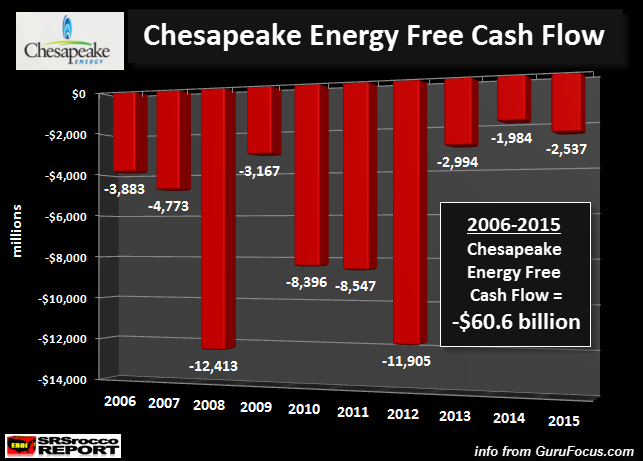 While the gurufocus.com table above is nice, this chart provides us a much clearer picture of the DISASTER taking place at Chesapeake Energy. Not only do we see a lot of RED in the chart, we can also see the total cumulative negative free cash flow for the ten-year period. Chesapeake Energy spent a whopping $60 billion more than they made from operating cash.
Basically, Chesapeake hoodwinked a lot of investors out of their hard-earned money to help make America, energy independent…. or at least they tried. Unfortunately, many of these investors still don't realize they have been bamboozled. Why? Because a lot of Chesapeake's debt, as well as many other shale energy companies' debt, are bonds purchased and held by many public and private pension and retirement funds.
And… it gets even worse. I've read that insurance companies have invested in the Great U.S. Shale Energy Ponzi Scheme. This is quite surprising as insurance companies are supposed to invest in very safe and conservative assets. However, the ultra-low interest rates at the banks, thanks to the Clowns at the Fed, have forced investors and institutions to search for "Higher yielding" investments. While the shale oil industry hasn't really made any money, at least they pay their bond holders a higher rate than many other investments in the market.
Regrettably, when investors or institutions try to get their initial shale energy investments back in the future, they will be for a rude awakening.
More Nails In The Chesapeake Energy Coffin
Before I continue, we must remember that Chesapeake Energy is the second largest natural gas producer in the United States. That being said, let's look at few more troubling signs at Chesapeake.
One of the nifty ways to fund operations if cash flow isn't adequate, is to perform STOCK DILUTION. If the company can't make a profit, well then by God, issue more stock to a new group of poor unworthy slobs. As they say, there's a sucker born every minute.
Read More @ SRSRoccoReport.com
Help us spread the ANTIDOTE to corporate propaganda.

Please follow SGT Report on Twitter & help share the message.