by Pam Martens and Russ Martens, Wall St On Parade: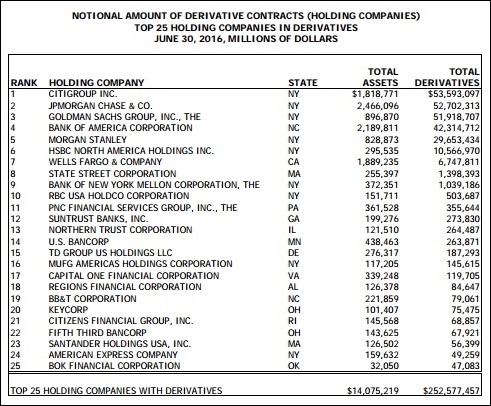 Each quarter the Office of the Comptroller of the Currency (OCC) releases a detailed report showing the exposure to derivatives at U.S. banks. The most recent report for the quarter ending June 30, 2016 indicates that U.S. bank holding companies have a total notional amount (face amount) of derivatives of $252.6 trillion. Of that total, just five Wall Street banks hold $230 trillion or 91 percent, underscoring how massively concentrated this high risk game has become. Those five banks are: Citigroup, JPMorgan Chase, Goldman Sachs Group, Bank of America and Morgan Stanley.
There are numerous U.S. units of foreign banks on the derivatives list of bank holding companies but one name is conspicuously missing: the German giant, Deutsche Bank. Without knowing how much potential exposure U.S. banks have to Deutsche Bank in the derivatives arena, the U.S. public is left completely in the dark on just how dangerously exposed our banks are, once again, to the potential failure of a systemically interconnected counterparty. Here's what we do know – no thanks to the OCC's copious reports.
From late summer and into the fall of this year, Deutsche Bank was struggling in quick sand with Wall Street banks trading like they were tethered tightly to its sinking hulk. Here's how Wall Street On Parade reported the situation on September 27:
"Yesterday, Germany's largest financial institution, Deutsche Bank, lost 7.06 percent by the close of trading on the New York Stock Exchange. That plunge in one of the most globally-interconnected banks dragged down the shares of every major Wall Street bank yesterday: Bank of America lost 2.77 percent; Morgan Stanley declined by 2.76 percent; Citigroup lost 2.67 percent; Goldman Sachs shed 2.21 percent; and JPMorgan Chase closed down 2.19 percent. Deutsche Bank, whose shares traded at more than $120 pre-crisis in 2007, closed at $11.85 yesterday in New York and was down another 3 percent in overnight trading in Europe."
Since October, Deutsche Bank has recovered some lost ground, closing yesterday on the New York Stock Exchange at $18.37. That trading price, unfortunately, still puts it at a share price loss of 86 percent over the past decade.
Read More @ WallStOnParade.com
Help us spread the ANTIDOTE to corporate propaganda.

Please follow SGT Report on Twitter & help share the message.