by Stefan Stanford, All News Pipeline: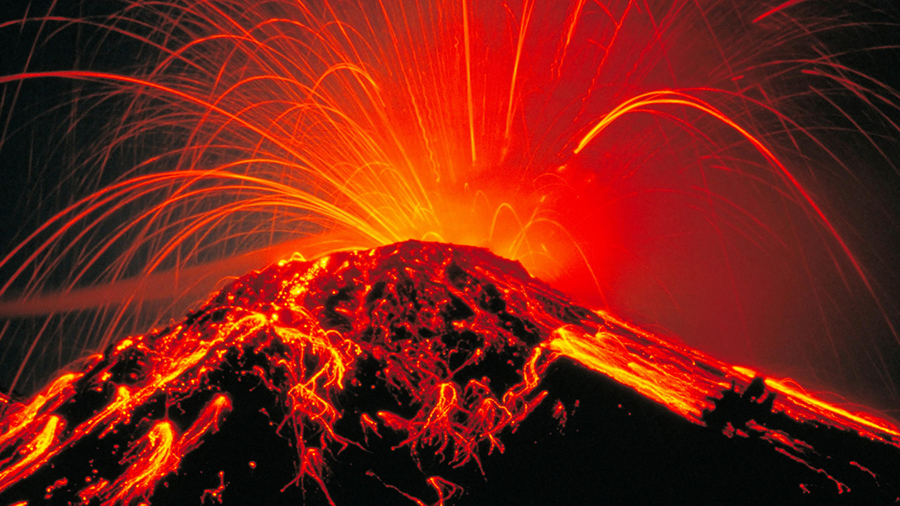 With much of America preparing to go into another deep feeze as another polar vortex makes its way into the lower 48, bringing the Washington DC area its coldest December temperatures in over a decade, the globalists are still pushing 'global warming' while striving for global governance based upon that alone. And while Americans this week will be bundling up warmly and sitting by their fireplaces while our energy costs for December go through the roof, what we're experiencing here in December of 2016 is nothing compared to what Americans went through 200 years ago in 1816.
Known as 'the year without a summer', the extremely cold weather that brought disaster and despair to America that year was caused by a volcano nearly 10,000 miles away. Leading to countless deaths here in America and across the world that year, Wikipedia reports crops and animals died and the US economy tumbled as America was unable to produce enough food, leading to Americans fighting Americans in American streets for food.
As we're told in the temperature chart below showing global temperatures spread out over more than 4,500 years, whenever solar radiation has decreased while volcanic activity has increased, global temperatures suddenly plummet – often within weeks or months according to experts. Is the cold weather that we're witnessing now here in America tied to the ongoing and unprecedented number of volcanoes that have been erupting across the planet this year?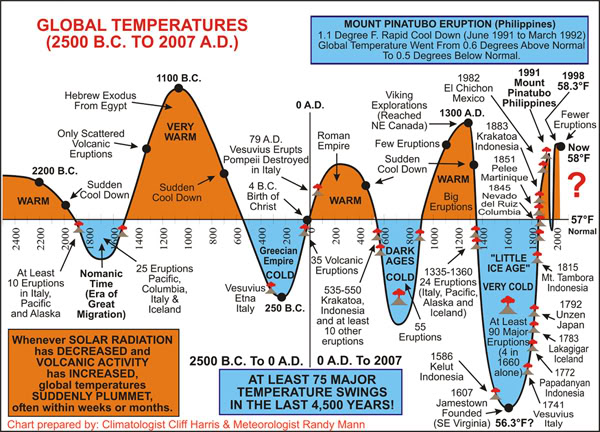 During the last week alone, Steve Quayle has linked to the following stories covering the unusual amount of volcanic activity and eruptions around the world recently. As we've reported on ANP several times this year, the extreme activity we're witnessing in volcanoes and earthquakes this year has been nearly unprecedented in recent history.
On December 13th, Reuters reported a 'unique burst of activity' at a little-known volcanic complex near the border of Chile and Argentina has attracted the interest of international scientists and led worried govts to prepare for a potentially devastating eruption. Reporting that magma is exerting pressure on the Earth's crust in a zone where evidence indicates that explosive eruptions have happened repeatedly in the last few thousand years, though none in modern times, they report an uplift of nearly 7′ in the last several years.
If such an eruption were to happen at Maule today, it would have the potential to devastate nearby hydroelectric projects, and pump out ash that could wipe out crops across Argentina's pampas and severely disrupt global air traffic.
"We have so little experience with this kind of data, but the uplift is the biggest seen anywhere on the planet," said Bradley Singer, a geoscientist from the U.S. University of Wisconsin-Madison, who is leading an international research effort to understand what is happening under the surface.
"No-one has a seen a signal this large and this persistent. And it's in an area with an explosive record."
On December 12th, the Express reported an 'eruption red alert' had been issued in Mexico with the Colima Volcano about to blow. While the volcano had been throwing ash and lava into the air since September, experts are now fearing the worst after a string of huge eruptions this past weekend, one of which threw ash about 3,000 feet into the air. More than 300,000 people live within 24 miles of the volcano the Express reports.
Also on December 12th, the Seattle Times reported Mount St. Helens had been shaken 120 times within a week as the volcano 'recharges' according to scientists watching the tiny quakes, a mile to two miles below the surface. Calling it "a well-behaved volcano….as far as we can tell", Weston Thelen, a US Geological Survey seismologist says "each of these little earthquakes is a clue and a reminder we are marching toward an eruption someday."
On December 9th, 10th and 11th, Strange Sounds reported on the many different volcanoes now erupting around the world in the last week alone including volcanoes in Costa Rica, Indonesia, Ecuador, Colombia, New Guinea, Hawaii, Peru, one of which caused a code red aviation alert for 7 hours after it ejected an ash cloud that was spotted by satellites more than 550 miles away. The Sabancaya volcano in Peru exploded 349 times in the last week alone.
Read More @ AllNewsPipeline.com
Help us spread the ANTIDOTE to corporate propaganda.

Please follow SGT Report on Twitter & help share the message.