by Pam Martens and Russ Martens, Wall St On Parade: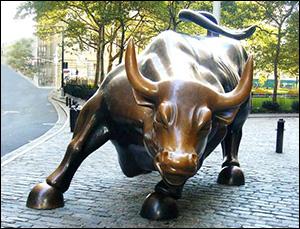 On December 2 President-elect Donald Trump's transition team sent out a press release advising that he had formed a business advisory panel "which is composed of some of America's most highly respected and successful business leaders, will be called upon to meet with the President frequently to share their specific experience and knowledge as the President implements his plan to bring back jobs and Make America Great Again."
In fact, according to the Chair of the panel, Stephen A. Schwarzman, Chairman and CEO of Blackstone, a private equity/hedge fund/investment bank headquartered in New York City, it was Schwarzman who actually selected the members of the panel and Trump went with the full group he had selected. (See Schwarzman's Bloomberg TV interview here.)
Aside from being a disparate cacophony of voices from wildly different businesses ranging from Boeing, a commercial jet manufacturer, to the Cleveland Clinic with no representation at all from labor or consumers, the panel has an outsized representation from the financial sector with one particularly curious member.
Of the 16 member group, 7 members hail from the financial/investment sector. In addition to Schwarzman, those members are:
Paul Atkins, CEO, Patomak Global Partners, LLC, Former Commissioner of the Securities and Exchange Commission;

Jamie Dimon, Chairman and CEO, JPMorgan Chase;

Larry Fink, Chairman and CEO, BlackRock;

Kevin Warsh, Former Member of the Board of Governors of the Federal Reserve System;

Adebayo Ogunlesi, Chairman and Managing Partner, Global Infrastructure Partners (a company buying up key infrastructure, like airports and pipelines, in countries around the world);

Daniel Yergin, an oil and energy expert who is Vice Chairman of a fascinating company known as IHS Markit. IHS merged with Markit Ltd. this year in a tax inversion, where it "officially" moved to London to avoid paying higher U.S. corporate taxes. But it's the Markit part of the company that makes its inclusion on the business advisory group so interesting.
IHS Markit employees 4200 people, which right off the bat makes its inclusion on this panel suspect. It's going to be sitting next to the likes of Jamie Dimon, whose JPMorgan Chase employees 235,000 people and Doug McMillon, President and CEO of Wal-Mart Stores, that has an employee roster of 2.3 million people worldwide with 1.5 million of those in the U.S., according to the company's web site.
Read More @ WallStOnParade.com
Help us spread the ANTIDOTE to corporate propaganda.

Please follow SGT Report on Twitter & help share the message.