by Steve St. Angelo, SRSRocco Report: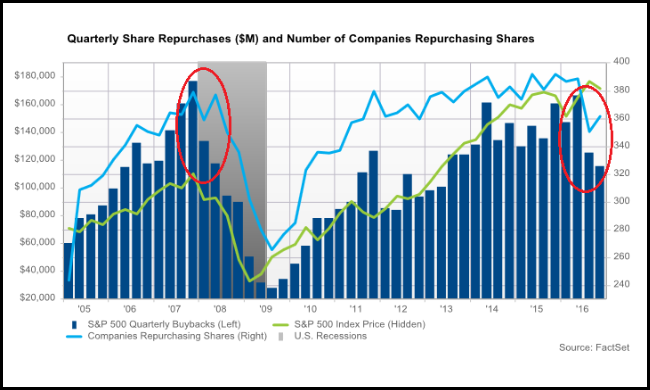 The one thing silver investors want to know, is when will the manipulation of the silver price finally end. And who can blame then. It becomes extremely frustrating to watch the silver price fade lower and lower, especially as the Dow Jones Index gets ready to surpass the 20,000 level.
Furthermore, precious metals sentiment continues to head down the toilet and into the cesspool, while the financial networks like CNBC get ready to pass out "Go 25,000 Dow Jones"baseball caps. However, the broader markets are in serious trouble, pointed out by Wolf Richter's article, What The Heck's Happening To Our Shale Buyback Boom. In that article he posted this chart and stated the following: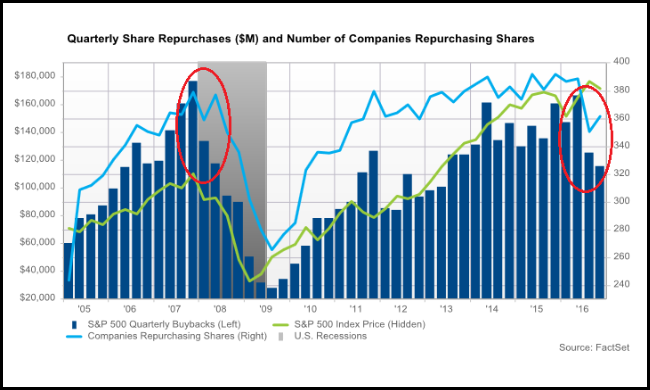 Share buybacks in the third quarter plunged 28% year-over-year, to $115.6 billion, the biggest year-over-year dive since Q3 2009, according to FactSet. It was the second quarter in a row of declines, from the glorious Q1 this year, when buybacks had reached $168 billion, behind only Q3 2007 before it all came apart.
So, it looks as if the Dow Jones Index is most certainly well beyond BUBBLE TERRITORY. Of course, this won't stop those with "Sugar Plums Dancing In The Heads & Dollar Signs In The Eyeballs" from jumping onto the runaway stock market train-wreck.
This is a horrible failure of the human psyche. Instead of an individual becoming more cautious, prudent and steadfast when markets are behaving completely insane, we find quite the opposite as greed and avarice increase the severity of the BRAIN DAMAGED investor.
That being said, the best we can do when the fan finally hits the cow excrement, is not to tell our friends, associates and loved ones who didn't listen, "I TOLD YOU SO." Best to keep our big mouth shut. However, I don't see a problem with wearing a T-Shirt that has "THANK GOD PRECIOUS METALS SAVED MY AZZ" printed on it. Nothing wrong with being respectful, but also subtle.
Alright, let's get to some of the Forensic Evidence on why silver price manipulation will end.
To Make Sense Of Silver Price Manipulation, You Have To Understand The True Fundamentals
Even though Deutsche Bank finally came out and provided evidence that they have been manipulating the silver market, this didn't do much to change the falling price trend. Ironically, after Zerohedge published the Deutsche Bank Silver Manipulation article on December 8th, the price of silver fell another 8%.
I would imagine this must have done wonders for already disenchanted silver investor. Which is why I decided to write this article. Even though the present downturn in the paper silver price can be quite frustrating to many investors, SILVER'S REAL VALUE is totally misunderstood by the market.
To understand how the silver price is being manipulated, we have to first understand the silver pricing mechanism. To explain this, I decided to use one of the largest primary silver mining companies in the industry, Pan American Silver.
Unfortunately, the majority of the market still believes that "Supply & Demand" are the leading drivers of price. They aren't. While I used to believe in this economic theory, I no longer do. I have made the case for this in several of my past articles, but I will show it again using Pan American Silver as another example
I have updated my chart below to show Pan American Silver's "Estimated Break-even" from 2004 to 2016: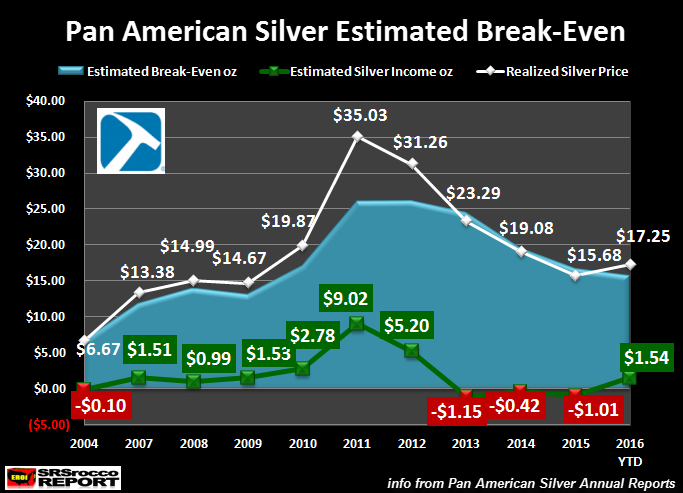 This chart may seem a bit complicated, but it's not. The top of the BLUE AREA is Pan American Silver's estimated break-even, the WHITE LINE represents the realized annual silver price and the GREEN or RED figures show the estimated profit or loss per ounce each year.
Basically, when the white line is above the blue area, Pan American Silver made a profit and when it fell below, they suffered a loss. So, except for a few really good years (2011 & 2012), Pan American Silver did not make much money for each ounce of silver they produced. Pan American Silver enjoyed a $9.02 profit per ounce in 2011 and $5.20 in 2012. However, they lost money in 2004, 2013, 2014 and 2015.
Read More @ SRSRoccoReport.com
Help us spread the ANTIDOTE to corporate propaganda.

Please follow SGT Report on Twitter & help share the message.