by Frances Martel, Breitbart: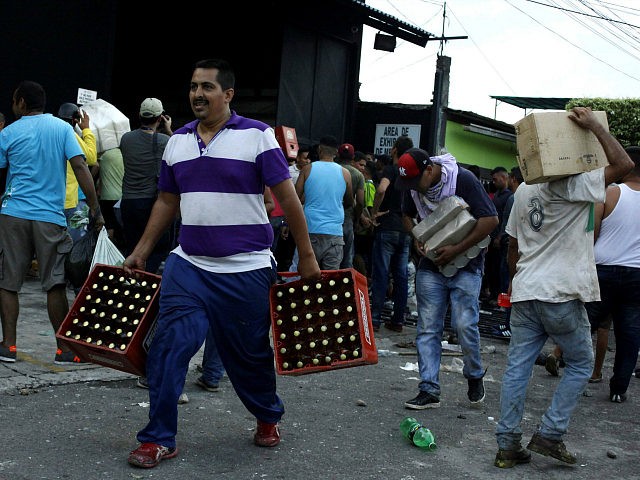 Venezuelan dictator Nicolás Maduro has announced he will allow Venezuelans to continue using the 100 bolívar bill — outlawed last week because of inflation — until January.
The decision follows reports of hundreds of arrests in Venezuela, including the arrests of police officers, for looting groceries, markets, and pharmacies in the nation's most impoverished communities.
"I have decided to prolong the use of the 100 bolívar bill until January 2 through an emergency decree," Maduro announced on his television program In Contact with Maduro on Sunday. Maduro had given Venezuelans 72 hours last week to return all their 100 bolívar bills, previously the nation's largest denomination, to the nation's banks in exchange for new, larger currency denominations intended to streamline economic interactions in light of the growing hyperinflation crisis in the socialist country. Maduro failed to deliver the larger bills, however, ranging from 500 to 20,000 bolívars in value, triggering mass looting, bill burning, and protests.
On the same television program, Maduro announced that the new 500 bolívar bill was finally on its way "after having suffered sabotage." "The new 500 bill should have arrived Thursday, it arrived today Sunday," he announced. "They couldn't stop it, they just held it back four days," he added, without specifying who "they" are. Maduro has previously accused the United States of waging "economic war" against Venezuela, a claim the White House has vehemently refuted.
He later claimed that President Obama's "final blow" of 2016 was underway "to cause chaos, violence, division using infiltrated agents, unpatriotic parties, and the ultra-right wing."
Maduro did not announce when the 500 bolívar bills would be available for distribution, however.
Venezuelans waited for hours in bank lines between Tuesday and Thursday last week to hand over their 100s only to find that the banks had nothing to trade them in for. Their money rendered worthless, Venezuelans began to ransack businesses for food, medicine, and other valuable goods. Reports indicate that between one and three people died and over 300 people were arrested over the weekend, according to Reuters.
Así quedó el Baratón pic.twitter.com/X8csRuzApK #CiudadBolivar

— ¿? (@somebodyatworld) December 18, 2016
Miren como saquearon está ferretería en #CiudadBolivar. La gente caminando con cabillas y tubos como si nada #AleReportando @fcarolinahr pic.twitter.com/E4jtmhJAhB

— Ale Reportando (@AleReportando) December 17, 2016
The worst of the looting appears to have occurred in Bolívar state, where Reuters notes 262 of the arrests occurred. 90 percent of Bolívar city's businesses were looted over the weekend, Reuters notes, including many not selling food. El Correo de Caroni, a regional newspaper, published a harrowing account of the violence in Bolívar over the weekend, noting that "hardward stores, car dealerships, kiosks and pharmacies" came under attack.
"Since this morning," the newspaper wrote on Sunday, "all can be summarized in one word: chaos. It is difficult to give a chronological account of what occurred because, after the incident at Mercal [a government-run food distribution facility], the storage unit remained open and the key to close it, damaged. There was nothing police or the military could do."
Help us spread the ANTIDOTE to corporate propaganda.

Please follow SGT Report on Twitter & help share the message.