by Harrison Koehli, Sott: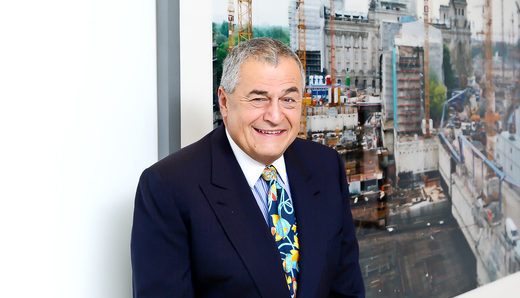 The Podesta brothers – John and Tony – are creepy.
Most recently, John was the Clinton campaign's chairman, but he has worked with Bill and Obama too. Tony is considered one of Washington's most powerful lobbyists. (For more on their political background, see Abby Martin's recent Empire Files on teleSUR.)
Not knowing much about them – aside from the fact that Podesta is interested in UFOs – the first ping on my radar was the "spirit cooking" revelation from the leaked Podesta emails.The relevant email suggests that not only are Tony and John close enough to Crowleyite "magickian" and "artist" Marina Abramovic to be on a first-name basis with her, but also that they are familiar enough with her "spirit cooking" to know what that involves and presumably be fine with attending a session. The casual tone sounds as if the planned "dinner" was probably not their first. (See: Sickos: Wikileaks reveals Podesta bros participate in disturbing, occult-themed "spirit cooking" involving copious bodily fluids?)
Since the release of Podesta's emails, users on sites like 4chan, Twitter, Reddit and YouTube, among other blogs and forums, have been uncovering a ton of strange connections, creepy implications, and perhaps outlandish speculations about the brothers and their circle of friends. For example, see this compilation of info by "ausbitbank" on steemit. There's a ton of other stuff out there, so knock yourself out searching and combing through it all. There's a ton of speculations and unsourced assertions on the topic, but there are also some genuinely creepy people and connections involved. Here I'll present just the facts. Let's start with Tony.
On July 16, 2015, Politico published a photo essay "inside Hillary's campaign headquarters" that featured an image of John's office. On the wall is a painting, on loan from his brother Tony, that features a suited man lying on a table, with two men standing over him. The visual suggestion – given the plates and cutlery held by the two – are that they are preparing to eat him.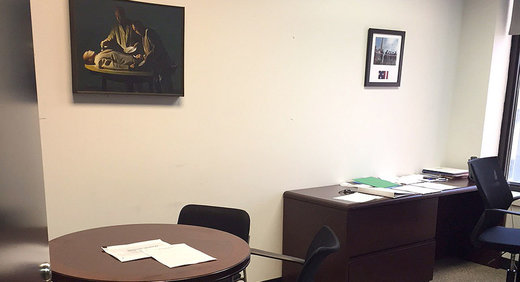 On April 28, 2016, Time published a feature on John, in which the painting was described:
"On the wall in his office at Hillary Clinton's Brooklyn headquarters, campaign chairman John Podesta has an oil painting on loan from his lobbyist brother, who is an avid art collector. The image shows two men hunched over a dining room table, bearing knives and forks. On the table lays a man in a suit, who looks vaguely like Podesta. "It's better to be the guy with the fork," Podesta quips to his colleagues, if they ask about the image, "than the guy on the table."
I'll refrain from commenting on that last quip except to say it's no wonder this guy worked for Hillary… The Free Syrian Army would love his taste in art. But pull a bit further on that description of Tony as "an avid art collector" and you might regret it.
A Washington Post article on Tony's "art" collection is revealing. (It's no longer available on their site, but it is archivedhere.) According to its author, Jessica Dawson, Tony is considered as one of the USA's "most important contemporary art collectors". His wife Heather describes their first date like this, when she first encountered Tony's "hobby":
"Passing some of the quirkier selections, Heather recalls Tony remarking, "I don't know why it is, but I have artworks where the women have no heads." The next day, she sent him a note signed, "Woman with a head."
So sweet! Dawson writes that Tony and Heather "don't shy away from discomfort — especially when they can inflict it, ever so gently, on others". As examples, she cites a suite of works in their collection that serve "as a cautionary tale of genetic engineering", including a boy "seemingly born from a sewing machine" and "a naked women immersed in blood-red liquid":
"Some people think it's a little weird," Tony says of his choices. "But that's their problem."

Steeped in liberal politics, Tony favors art with in-your-face nudity and social critique. [His brother John] admires his choices in art but recognizes that not everyone gets it. Says John, "I don't think Tony focus-groups his art."

Though pictures rotate on and off the walls of the couple's homes, a piece in the Woodley Park living room stays. Called "Soliloquy VII," … an update of a late-15th-century painting of the dead Jesus. Taylor-Wood faithfully replicates the original's composition, here photographing, in vivid color and minute detail, a young man laid out on his back. Just one thing: Taylor-Wood omits the shroud, displaying his subject in all his nakedness.
Another piece, "The Arch of Hysteria" by Louise Bourgeois — an eight-foot sculpture of a headless man's contorted body — hangs from the ceiling of their stairwell and serves as what Heather calls "an ice-breaker" that "puts people at ease". I find that hard to believe. But I guess stuff like that is relative, considering another portion of Tony's collection: one bedroom in their house contains "multiple color pictures by Katy Grannan, a photographer known for documentary-style pictures of naked teenagers". Below is a picture of Tony and "The Arch", followed by a picture of the sculpture from a different angle.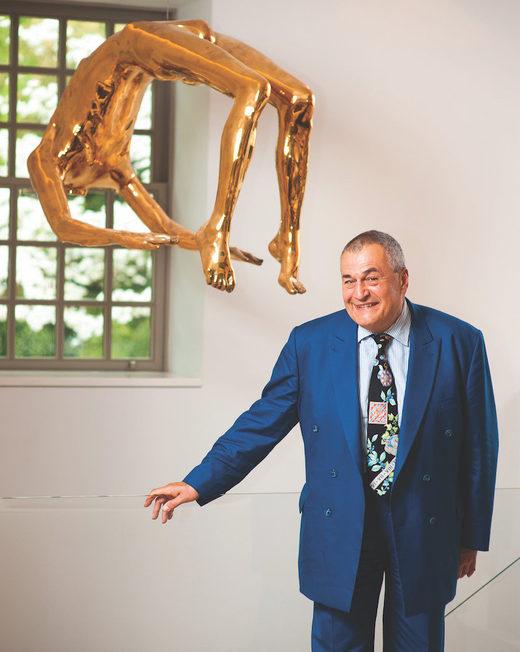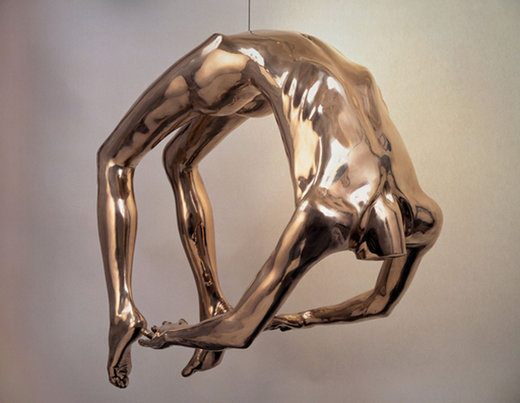 Whether intentional or not, the sculpture bears a resemblance to one of serial killer Jeffrey Dahmer's victims. You can view the image here (warning – it is not gory, but still disturbing). The caption to the image reads: "Dahmer photographed his victims' bodies in various positions that he found sexually significant." I could find no indication that Bourgeois intentionally modelled the sculpture on the Dahmer photograph, and while the poses are not identical, the similarities are striking, including the arched position, the slender frame, the prominent ribs, and the lack of a head.
Laura Wainman wrote a piece on Tony's home, published for Washington Life on June 5, 2015. In it, Tony lists Louise Bourgeois and Marina Abramovic (of "spirit cooking" fame, see first paragraph above) as among his top five favorite "artists". But the first "artist" in Tony's collection mentioned in the article is Serbian painter Biljana Djurdjevic. Here's a selection of her work (more photos available here and on her website):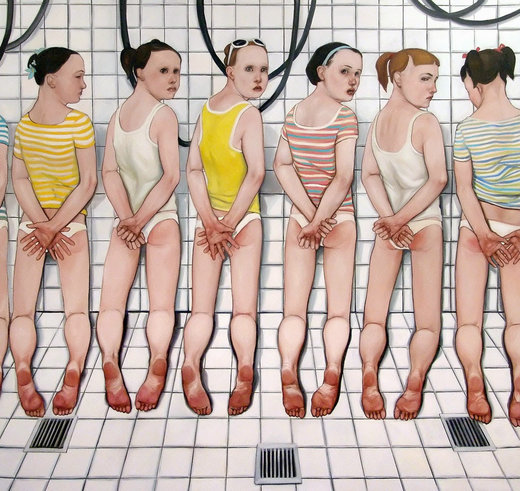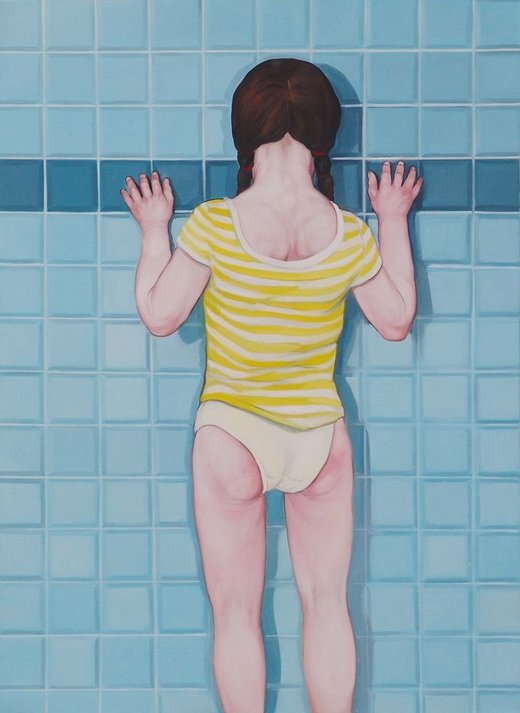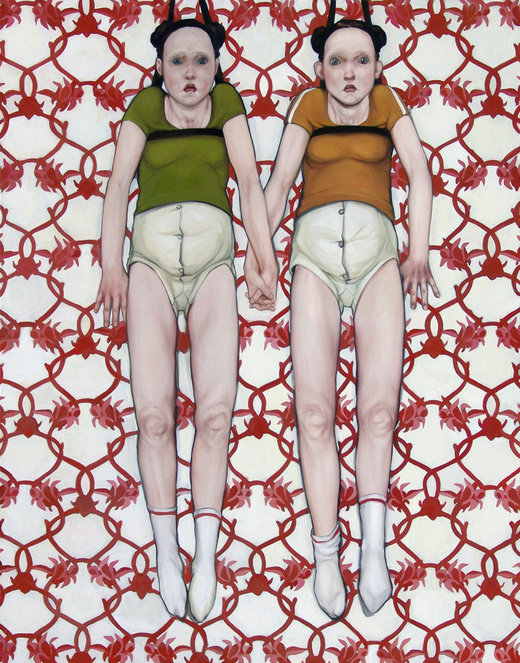 And this is where things get weird. (Understatement?) Wainman writes:
"John regularly opens his house to casual pizza parties co-hosted by his friend James Alefantis, the owner of Comet Ping Pong. Over 200 pies emerge from the outdoor pizza oven as guests wander through the house and garden while studying his art collection.
After the net sleuths caught hold of this name in connection to Podesta and trawled through his social media, he deleted many of his posts and set his accounts to private. Not before a lot of it was archived, though. Who is James Alefantis? Aside from being the owner of the pizza and music place in DC named above, he is something of a mover and shaker on the DC scene. GQ magazine listed him as one of the 50 most powerful people in Washington – number 49 to be precise. (Heather and Tony are #23.) GQ writes:
"Liberal twentysomethings in khakis drink beer and eat pizza at Alefantis-owned Comet Ping Pong. More established progressives wine and dine next door at Alefantis-owned Buck's Fishing Camping. Alefantis is also the board president of Transformer, the contemporary art gallery that shamed the Smithsonian for removing an installation offensive to right-wingers. When it comes to D.C. radical chic, Alefantis is unsurpassed. If you don't know him, you aren't wearing your scarf right."
Alefantis used to be the boyfriend of David Brock, the Republican turned Democrat who used to be the director of Correct the Record, Hillary Clinton's "media watchdog". (In 2012, Brock was involved in a lawsuit involving an ex boyfriend, William Grey, who reportedly blackmailed Brock for $850,000 over some "damaging information involving [Media Matters for America's] donors and the IRS". The legal battle began shortly after Grey and Brock started dating.)
On his Instagram, he had a photograph of Marina Abramovic holding a bundle of sticks, i.e. a fagot, with the hashtag "#faggot Marina and Faggot". Like his ex David Brock, he supported Hillary Clinton's campaign and posted the letter of thanks she wrote him on his Instagram. Barack Obama held phone banks at his pizza place in 2012 (James also posted a photo of Obama playing ping pong on his Instagram), and James visited the White House several times. George Soros was the biggest donor for David Brock's American Bridge 21st Century PAC in 2012 and 2014, which in turn made payments to Comet Ping Pong ($11,500 on March 21, 2014, for "Catering & Facility Rental").
It appears that Alefantis's mother, Susan, wrote a letter in support of Christopher Kloman, who was sentenced to 43 years in 2013 for multiple counts of child molestation.
Comet Ping Pong is billed as a "kid-friendly" restaurant. I wouldn't go that far, considering the promotional "artwork" associated with the restaurant, not to mention Alefantis's Instagram, where he has posted hardcore pornography in an art gallery (image is censored). Here's a photo taken at Comet Ping Pong of a painting of a man (with a penis graffitied on) playing ping pong with an alien, next to which are the words, "Shut up n' f*** Amen♂" (screenshot). This pic seems innocent enough – a young man holding an infant child, with a yellow beaded necklace around both their necks. But Alefantis's hashtag is "#chickenlovers". Apparently "chicken lover" is gay slang for "Paedophile one with a sexual attraction, and need for young boys, under the age of consent" ("chicken" is "any boy under the age of consent").
Alefantis also has posts of sexualized images featuring pizza in some way. Here are the least offensive ones: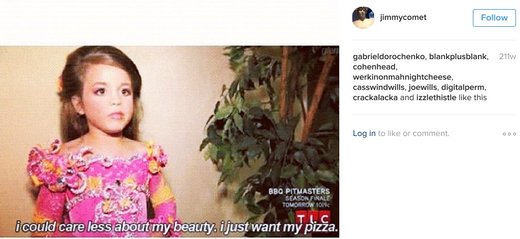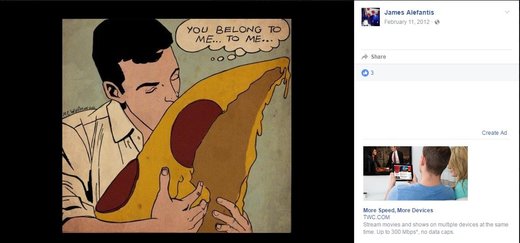 Most of the worst images are posted by a very disturbed-looking individual called "joshuaryanv" (FB), including:
a painting of a nude couple giving each other oral sex on a giant piece of pizza
a pornographic image of two men giving oral sex to another man, who has a slice of pizza photoshopped over his penis and the caption "mmmmmm…. p

enis

izza"
a female model wearing just a small t-shirt and holding a piece of pizza in front of her crotch
an image of a nude male lying down with honey drizzled on his stomach and a piece of pizza covering his genitals
Sasha Lord is the event promoter at CPP (she also teaches yoga and has worked for the Girl Scouts). Heavy Breathing is one of the bands that has played at CPP, and its vocalist is Amanda Kleinman (aka Majestic Ape). Kleinman's voice suggests she is transvestite or transgender.
In a video taken at CPP on Sasha's birthday in 2012, Kleinman "jokes" about euthanizing a baby ("After it was born, I had to put that s*** down") that Sasha Lord carried to term for her (go to 5:20 for relevant remarks).
Help us spread the ANTIDOTE to corporate propaganda.

Please follow SGT Report on Twitter & help share the message.