by Steve St. Angelo, SRSRocco Report: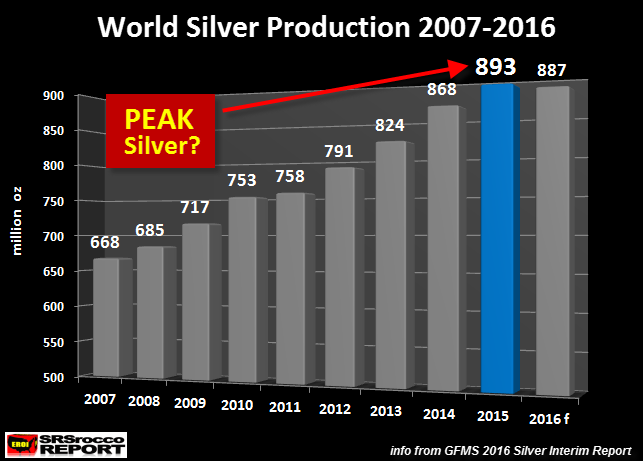 If the market has finally experienced a peak in world silver production, this warns of higher prices in the future. In addition, the global silver market suffered another large net supply deficit in 2016. These factors point to a big upcoming trend change in the future silver market.
The Silver Institute just published its 2016 Silver Interim Report. This report is published by Thomson Reuters GFMS. According to their forecast for 2016, global silver production will decline to 887 million oz (Moz), down from 893 Moz in 2015: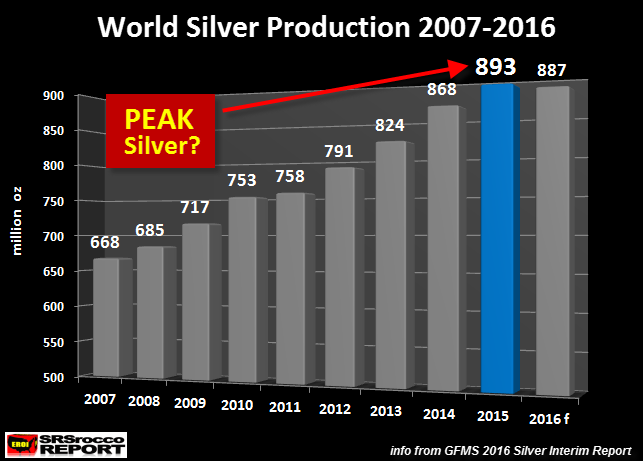 While forecasted global silver production for 2016 is down only slightly versus last year, GFMS also stated this in their report:
We estimate that mine supply peaked in 2015 and will trend lower in the foreseeable future.

Declining total supply is expected to be a key driver of annual deficits in the silver market going forward.
I will get to the annual silver deficits in a minute, but let's look at their world silver mine supply by region: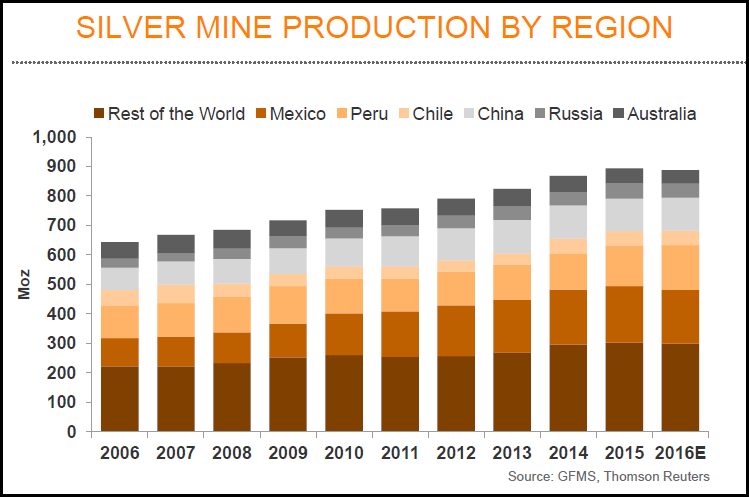 What is interesting here, is that GFMS forecasts the number one silver producer, Mexico, to be down in 2016 by more than 6 Moz. Last year, I forecasted that global silver production would likely be lower in 2015. I was going by data by the "World Metals Statistics." However, Mexico's INEGI (government agency) considerably revised their figures higher for 2015. While I have seen revisions take place, the revisions by Mexico's INEGI for 2015 were quite substantial.
Regardless, GFMS does a pretty good job with the silver mine supply data. The important take-away here is that the trend of global silver production will likely be lower going forward.
The Majority Of Global Silver Production Declines Will Come From By-Product Base Mining
The majority of silver production comes from the by-product of base metal mining. According to GFMS 2016 Silver Interim Report, lead & zinc accounted for 34.4% of silver supply, while copper yielded 22.1%. Thus, the mining of these three base metals supplied 56.5% of global silver production in 2016. Primary silver production accounted for 30.4% and gold mining supplied 12.5%: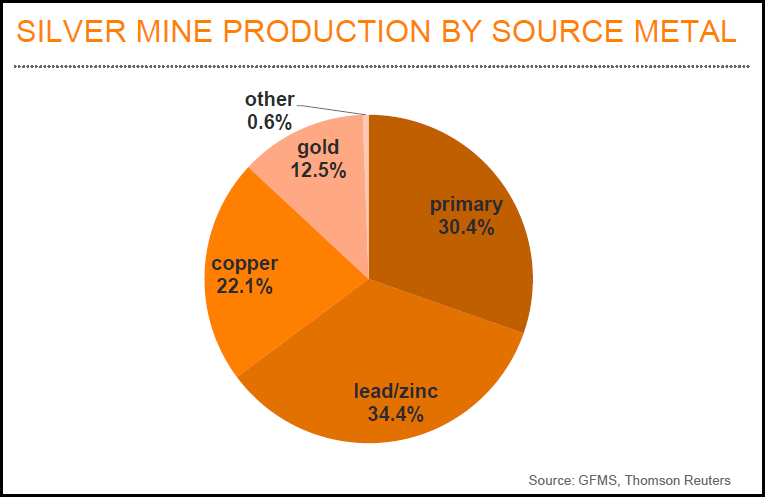 As I have mentioned in prior articles, the decline in global oil production will impact base metal mining to a larger degree than primary silver production. It takes a great deal of liquid fuels to produce the world's base metals.
For example, the Chilean Copper Commission stated in a 2014 report, that the country consumed 535 million gallons of liquid fuel to produce 5.7 million tons of copper. Thus Chile's copper industry consumed 94 gallons of liquid fuel for each tonne of copper produced.
On the other hand, Pan American Silver burned 20.5 million gallons of liquid fuel to produce their 26.5 million oz of silver in 2015. Which means, each ounce of silver production took 0.80 gallons of liquid fuel. If we use Pan American Silver as a guide, then the 269 Moz of primary silver production in 2016 consumed 215 million gallons of liquid fuel. However, I would imagine the global primary silver production average is much less, more like 0.50 gallon per ounce of silver. So, we are talking about 135-150 million gallons of liquid fuel to produce all the primary silver in the world.
Read More @ SRSRoccoReport.com
Help us spread the ANTIDOTE to corporate propaganda.

Please follow SGT Report on Twitter & help share the message.