by Julie Fidler, Natural Society: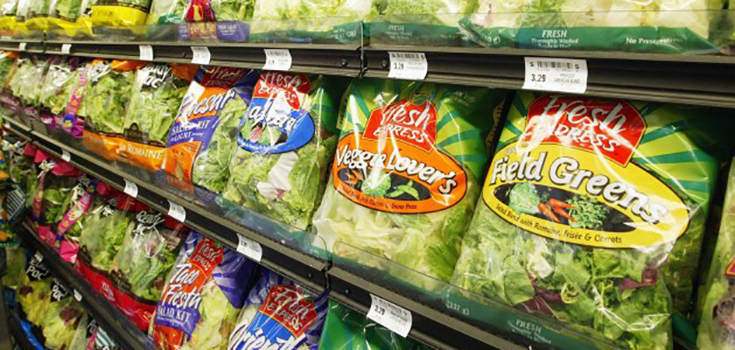 If you're in the mood for salad at your next meal, you may be safer buying your own unpackaged lettuce than you are buying the packaged stuff, a new study finds. Why? Because bagged salad promotes Salmonella growth. In a new study published in Applied and Environmental Microbiology, researchers from the University of Leicester in England found that juices from cut and damaged leaves not only cause Salmonella enterica bacteria to multiply more rapidly, but also enhance the pathogen's ability to attach to the leaves of the salad and to the plastic packaging. [1]
In other words, the juices from the cut salad leaves may help grow more Salmonella bacteria that is more difficult to get rid of. So difficult, in fact, that rewashing the salad to get rid of the pathogen is nearly useless.
Salmonella growth on fresh produce, on the other hand, can be restricted by refrigerating the lettuce. But in the study, researchers found that salmonella still grows faster on refrigerated packaged salad than it does on fresh produce.
The authors of the study write:
"These analyses suggest that Salmonella contaminating a bagged salad would be able to use the leaf nutrients leached into the bag water film to promote its proliferation and retention even within a refrigerated environment."
The researchers discovered that Salmonella attaches to the lettuce leaves of packaged salads because exposure to the leaves' liquid aids in the forming of a biofilm that allows the Salmonella to cling more durably to surfaces.
Read More @ NaturalSociety.com
Help us spread the ANTIDOTE to corporate propaganda.

Please follow SGT Report on Twitter & help share the message.