by Michael Snyder, End Of The American Dream: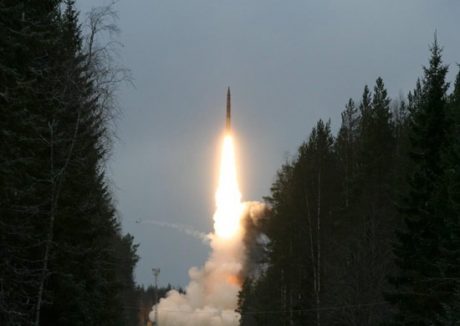 In Russia there is talk that war with the United States is inevitable, and they are feverishly preparing to win such a war when it happens. Thanks to tensions over Ukraine, Syria and the price of oil, U.S. relations with Russia are the worst that they have been since at least the end of the Cold War. In fact, one false move could result in U.S. and Russian forces shooting at each other in Syria as you will see below. The Russians have worked incredibly hard to upgrade and modernize their military in recent years, but meanwhile the U.S. military is being transformed into a radically politically-correct social experiment by the Obama administration. Most Americans simply assume that we will never fight a war with Russia, and that if for some reason we did that we would win easily. Unfortunately, things have changed dramatically over the past decade, and the truth is that the Russians now have the upper hand.
Most Americans are accustomed to thinking that we have such an overwhelming strategic nuclear arsenal that nobody would ever dare mess with us. At one time that was true, but now it isn't. In fact, the size of the U.S. strategic nuclear arsenal has been reduced by more than 95 percent since the end of the Cold War, and now the Russians actually have more deployed nuclear warheads than we do. The following comes from the Daily Beast…
While the U.S. military has been steadily cutting the number of nukes it loads on submarines and bombers and in missile silos, Russian forces have recently been adding more.

Seemingly more worrying for the United States, Russia's 1,796 deployed warheads exceed—by a whopping 246 weapons—the cap of 1,550 deployed nuclear weapons that Moscow and Washington agreed to as part of the 2011 New Strategic Arms Reduction Treaty.

The United States, meanwhile, is already well below the New START cap. America's missile submarines, nuclear-capable heavy bombers, and land-based intercontinental ballistic missiles are armed with just 1,367 warheads, the State Department says.
But it isn't just the number of warheads that we need to be concerned about. The Russians have developed a brand new intercontinental ballistic missile known as "the Sarmat" that is far more advanced than anything the U.S. currently has deployed…
The Sarmat will weigh at least 100-tons and carry a 10-ton payload. That means the missile could carry as many as 15 independently targeted thermo-nuclear warheads. It has a range of at least 6,000 miles. Once it is operational, it will be the largest ICBM ever built.

Like other modern Russian ICBMs such as the Yars, Topol-M and the Bulava, the Sarmat is being designed specifically to overcome ballistic missile defenses using a combination of decoys, a host of countermeasures and sheer speed. It might also be equipped with maneuvering warheads—which would make it much more difficult to intercept.
We have no way to stop the Sarmat, so once it is launched we are defenseless against it.
And each missile carries 15 independently targeted warheads, and so that means that for each missile that goes up, 15 warheads come down. Every one of those warheads can be directed to a different city, and so one Sarmat missile could essentially destroy an area approximately the size of Texas.
Meanwhile, the U.S. military continues to use hopelessly outdated technology. 60 Minutes has shown that many of our nuclear silos are still using rotary phones and the kind of 8-inch floppy disks that you can hold in your hand and actually flop around. And the Obama administration plans to keep Minuteman intercontinental ballistic missiles that were originally deployed in the 1960s and 1970s in service until 2030.
Of even greater concern than the Sarmat intercontinental ballistic missile are the "black hole submarines" that Russia has developed. These stealth submarines are so quiet and so invisible that they can come right up to our coastlines without us even knowing that they are there.
So someday a fleet of Russian submarines may suddenly surface just off both coasts, launch a barrage of nuclear missiles at us, and we would only have moments to try to decide what to do before our cities, our nuclear forces and our leadership started getting hit by nukes.
And guess what? The Russians have now developed even newer submarines that are even quieter and stealthier than the subs that the U.S. Navy referred to as "black holes"…
"The stealth capabilities of Russia's new Lada-class diesel-electric submarines far exceed those of their predecessors, Admiraty Shipyard's CEO Alexander Buzakov told the Russian press.

"According to Buzakov, the new vessels are even stealthier than Russian Kilo-class submarines, thought to be one of the quietest diesel-electric submarine classes in the world and dubbed "black holes" for their ability to "disappear" from sonars.

"The new submarines are able to maintain such a low profile thanks to a clever implementation of a next-generation anti-reflective acoustic coating and a new improved hydro-acoustic system, Buzakov said.
Read More @ EndOfTheAmericanDream.com
Help us spread the ANTIDOTE to corporate propaganda.

Please follow SGT Report on Twitter & help share the message.