by Wolf Richter, Wolf Street:
The supply of rental units on the market is ballooning.
"The trend in rental prices this month was mixed": so started out the Zumper October Rent Report for the month of September.
"Mixed" is not exactly a bullish term – not when it includes the two most expensive housing markets in the US, San Francisco and New York, where rents have fallen, in some cases sharply, on a year-over-year basis, as the supply of new apartments already on the market and coming on the market is enormous.
In San Francisco, the median asking rent for a one-bedroom apartment fell 5.5% year-over-year to $3,420, according to Zumper, which analyzes rental data from over 1 million active rental listings in multi-family buildings and does not include single-family houses on the rental market. For a two-bedroom, it fell 4.4% year-over-year to $4,780.
It was the third month in a row of year-over-year declines. The last time the market was negative year-over-year was in April 2010. Since then, rents have soared at astonishing rates. Hence the San Francisco term for it: "Housing Crisis." It's when even teachers can't afford to live in the city – unless they've been in a rent-controlled apartment for years and don't get evicted.
OK, $4,780 a month is still a huge amount for a two-bedroom. Median asking rents means 50% are higher, 50% lower. But not many people, even in San Francisco, can afford those kinds of rents.
To put that in perspective, that median two-bedroom costs the tenant $57,360 a year, which is about the median household income in the US. So there's a little bit of an affordability problem, even in San Francisco, and hence a demand problem.
Now incentives are piling up, such as one month free rent – previously a rare occurrence in San Francisco. These incentives are not included in asking rents. The rent decline for the median two-bedroom amounts to $2,523 a year. Together with one month free rent, the actual decline in asking rent for the first year is $7,303, or about 12%! A big plunge for both landlord and tenant. But it's just the beginning.
What a difference! Here is what happened a year ago, according Zumper's October 2015 rent report:
High priced cities are getting more expensive; in fact, the top four cities on our list all saw rent increases in the near term. San Francisco widened its gap between NYC…. September again marked a new record high for the city, now with a median one bedroom of $3,620 and two bedroom of $5,000. Rents in the city are up 13.1% in the past year.
Note the double-digit year-over-year rent increase. At the time, there were zero incentives.
The supply of rental units on the market is ballooning.
On Zillow, there are 1,237 apartments listed as available for rent in San Francisco, up 7.7% from a month ago (1,149 units) when I last wrote about it. The Zillow image below only shows 500 units. If all available units were shown, over one-third of San Francisco would be solid purple. Note the dots that say "9+." They represent larger buildings, some of them with dozens of vacant rental units. You can see these towers South of Market and in some other pockets: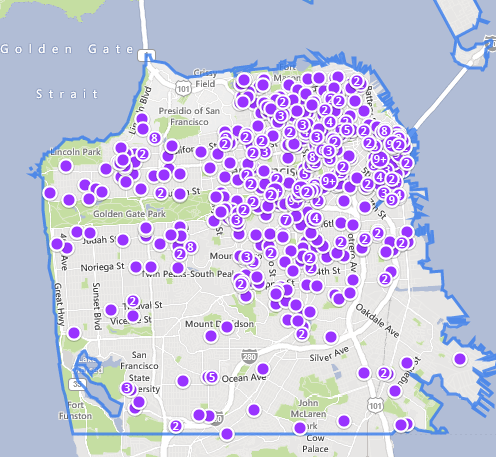 Apartments.com lists 3,534 apartments for rent, up 14% from the 3,094 units a month ago, and up 54% from the 2,302 apartments it listed in June: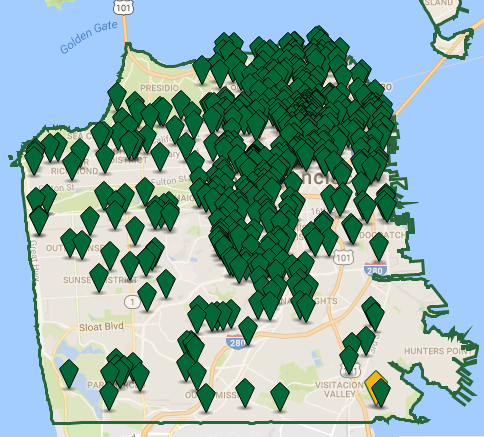 The densest clusters of units in both charts are in areas where the high-rise construction boom is most obvious. It's not just apartments. Condos purchased by investors play a role too. The construction boom created numerous condo towers. Investors who bought the preconstruction units but have no intention of living there are trying to sell them, which is getting difficult, so they're showing up on the rental market.
Most of these new units are higher end. But as landlords are cutting rents and piling on incentives, they're pressuring the levels below, and then those levels have to cut rents and offer incentives to compete with then nicer new units, and over times, these pressures cascade all the way down.
New York City is facing similar dynamics: high rents that are crimping demand and a construction boom that is adding an enormous amount of supply.
Median asking rents fell 5.9% year-over-year to $3,040 for a one-bedroom apartment and 7.2% to 3,470 for a two-bedroom apartment, not including incentives.
Help us spread the ANTIDOTE to corporate propaganda.

Please follow SGT Report on Twitter & help share the message.