by Michael Snyder, End Of The American Dream: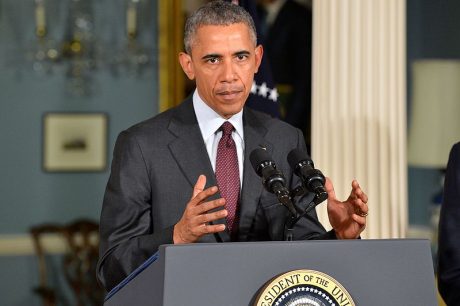 Everybody knows that what just happened in New York City was an act of Islamic terror, so why won't Barack Obama use those words? 28-year-old Afghan immigrant Ahmad Khan Rahami only had one motivation when he planted those improvised explosive devices. He wanted to use violence to promote the cause of Islam. All over the planet radical Islam is on the rise, and we have seen more than 1000 Islamic terror attacks worldwide so far this year. But an extreme form of political correctness is causing many of our leaders to deny what is happening right in front of their eyes. In fact, Barack Obama refused to use the word terrorism when talking about the attack in New York…
President Barack Obama made no mention of terrorism in his remarks on the bombings and attempted bombings in the New York City/New Jersey region over the weekend.

He also chastised the media and urged restraint when reporting about incidents that appear to be terrorist-related.

"I ask that the press try to refrain from getting out ahead of the investigation," Obama said. "… it does not help if false reports or incomplete information is out there."
Throughout his entire presidency, Barack Obama has been extremely reluctant to link radical Islam and terror. When he has spoken of Islam, his remarks have almost always been extremely positive.
And it is understandable why Obama would be so hesitant to say anything that could be construed to be negative about Islam. There are people working in his administration that are Muslim, and he has a whole host of friends and relatives that are Muslim.
But to deny that Ahmad Khan Rahami had a religious motivation because it would not be politically correct to admit that he did is insane.
Of course he had a religious motivation and of course this was yet another instance of Islamic terror.
New York Mayor Bill de Blasio also initially refused to call the bombing an act of terror, and he was roundly criticized by security experts interviewed by USA Today…
Several experts including a former New York City police commissioner said Sunday the explosion that injured 29 people on a Manhattan street was clearly an act of terrorism, and they were perplexed that Mayor Bill de Blasio called it only "an intentional act."

"It is absolutely an act of terrorism. I couldn't disagree with him (de Blasio) more," Howard Safir, who was police commissioner from 1996 to 2000, said in an interview. "I think they do a disservice to the public when they try to sugar coat something that is a horrific act."
Read More @ EndOfTheAmericanDream.com
Help us spread the ANTIDOTE to corporate propaganda.

Please follow SGT Report on Twitter & help share the message.