by Robert F. Kennedy Jr., GoldAndLiberty: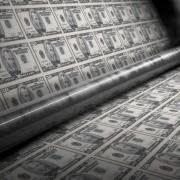 The quarterly Advisory Board organized by Incrementum Liechtenstein took place recently, and, as usual, the discussion was focused on challenging the consensus view. Part of the discussion was centered around helicopter money which is one of the anticipated scenarios that central banks around the world will launch shortly, meant as a monetary tool to 'stimulate' the economy.
We believe the discussion about helicopter money was particularly interesting, and, in this article, we picked out some key thoughts on that topic. We recommend readers to read the whole document (i.e., transcript of the meeting), in order to get valuable thoughts on the consequences of helicopter money on financial markets and inflation.
Besides helicopter money, some trading ideas were discussed, as well as the consequences of the Brexit, gold and mining stocks, inflation expectations and the outlook for the US dollar. Read the full document (pdf).
James Rickards discusses different forms of helicopter money as well its economic consequences :
I don't think we'll see it in 2016, but I'd say it'll definitely be on the agenda in 2017. It makes sense to start with a definition of what helicopter money actually is, because a lot of people are going to the cameras and to the news without actually having understood what it is. One thing that it's not: It's not dropping money out of helicopters. But what it means: It is money printing, but a different kind of money printing than we had so far.
The big question is: How can you print money such that it's certain to be spent? It's a problem if people don't spend because they're fearful, too concerned, they want to save or want to do leverage – and it's the same thing in the corporations. If the economy is in a liquidity trap, you turn to government, because the government is really good in spending money.
Read More @ GoldAndLiberty.com
Help us spread the ANTIDOTE to corporate propaganda.

Please follow SGT Report on Twitter & help share the message.