by Steve St. Angelo, SRSRocco Report: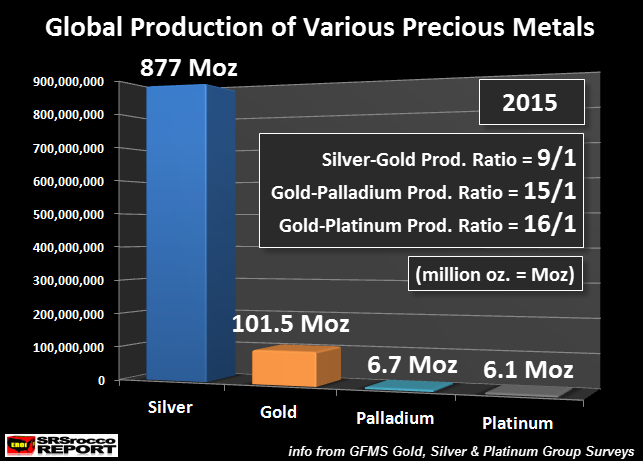 When the next financial crash occurs, investors need to understand which of the top four precious metals are the best to invest in. Unfortunately, there has been a great deal of faulty analysis that has mislead many investors about the fundamentals of gold, platinum, palladium and silver.
I will provide information in this article on the top four precious metals that has not been covered correctly by the majority of analysts. While some may have touched on individual aspects, very few have put together an in-depth analysis on these metals to properly educate investors.
However, before I get into the details of these top four precious metals, I would like to share some very important information.
When I wrote my article (few weeks ago) titled, THE COMING BREAKDOWN OF U.S. & GLOBAL MARKETS EXPLAINED: What Most Analysts Missed, it generated the most interest and commentary of any of my previous articles. It seemed to have hit a nerve in my followers and new readers.
In that article, I posted some of the charts by Louis Arnoux and the Hills Group. These charts explained the coming "Thermodynamic Collapse" of the oil price and global oil industry… in a relatively short period of time. Since then, I have had several long conversations with Louis on the science and math of their work.
Let me tell you all, any doubts I have had about the accuracy and legitimacy of their work… IS COMPLETELY GONE.
Folks… we are in a real mess. And the damned thing of it all, the world has no clue. While I have been pessimistic about the ramifications of peak oil and the Falling EROI – Energy Returned On Investment for many years, now I understand there is a TIME CLOCK. And, we don't have much time.
I have mentioned in a few interviews and articles that I was planning to have these gentlemen on for an interview to explain their work on the "Thermodynamic Oil Collapse." I'd planned to have them on already, but it took more time to understand the science behind their work. Basically, it took more time for me to wrap my mind around the ramifications of this work.
Furthermore, it is extremely important to present this information in a way in which individuals can "GET IT' or "CONNECT THE DOTS." Because, once an individual understands this information, it's like taking the ULTIMATE RED PILL. Once you comprehend it, you can't go back. Thus, it will force you to look at the world in a completely different way.
I will be wrapping up the discussion between Louis and the Hills Group, and we will have them on in the next few weeks to discuss their work. Moreover, I have decided that we will likely do several interviews to get the point across as well as discuss the dire ramifications.
Lastly, my article THE DEATH OF THE BAKKEN OIL FIELD HAS BEGUN: Means Big Trouble For The U.S., went viral on many sites a week ago. It received nearly 100,000 views on Zerohedge. However, a really bizarre event took place on the peakoil.com website. When it was posted on the peakoil.com site, it received the most comments ever (from what the members stated). Normally, there are only about 35 diehard members that leave comments. Most articles only received between 10-30 comments.
However, my DEATH OF THE BAKKEN article received nearly 300 comments on the peakoil.com site, and the majority of them came from 100+ new members that day. What was really bizarre, was that the comments from these new members were all negative and may have been generated by what is called, a TROLL BOT ATTACK . This is what some of the members of the site were discussing.
The peakoil.com site has been discussing peak oil for years, so the information in my article wasn't anything new. Although, the way it was presented or the title must have hit a nerve to generate such a large barrage of negative comments. So, it seems as if the global oil industry is in a much bigger trouble than I realized.
Please stay tuned for our upcoming interview on the Thermodynamic Collapse of Oil. It will be the most important information for individuals and investors to understand.
The Important Fundamentals Of the Top Four Precious Metals
Mine Production:
As I mentioned in the beginning of the article, there is a lot of incorrect analysis on the top four precious metals that has confused investors to no end. I will try to clear this up.
Let's look at the annual mine production of silver, gold, palladium and platinum. According to the Gold, Silver & Platinum Group Surveys provided by GFMS (Thomson Reuters), the world produced 877 million oz (Moz) of silver, 101 Moz of gold, 6.7 Moz of palladium and 6.1 Moz of platinum in 2015: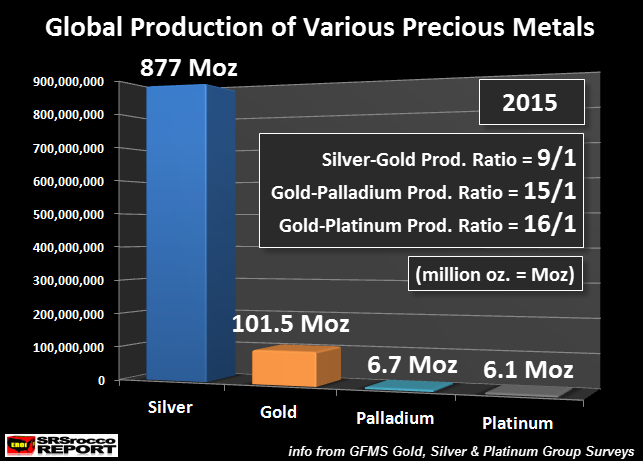 As we can see, there are 9 times more silver produced than gold, 15 times more gold than palladium and 16 times more gold than platinum. Many analysts have erroneously stated that due to the rarity of platinum or palladium, its value should be much higher than gold. Furthermore, other analysts believe the value of silver should be much higher than its current 69/1 price ratio to gold, due to there being only nine times more silver produced than gold.
The silver to gold production ratio may have been more a representation of the market value of these two precious metals hundreds of years ago or in ancient times, due to the way it was extracted from the earth (by human and animal labor). However, this has changed since the late 1800's, as the energy sources of coal and oil replaced human and animal labor.
Read More @ SRSRoccoReport.com
Help us spread the ANTIDOTE to corporate propaganda.

Please follow SGT Report on Twitter & help share the message.