by Pam Martens and Russ Martens, Wall Street On Parade: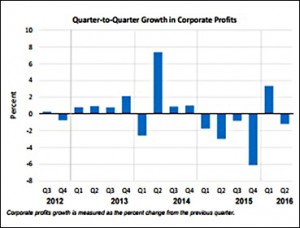 Wall Street was determined that a Democratic Socialist like Senator Bernie Sanders would never occupy the Oval Office. In hindsight, Wall Street may come to seriously regret that it and a full blown conspiracy at the Democratic National Committee blocked the ascendancy of one of the most popular and trusted presidential candidates in a generation.
Trust and confidence are essential ingredients for a healthy stock market and U.S. economy. According to the Bureau of Economic Analysis, U.S. consumers spent over $12 trillion last year "on all kinds of stuff, including new cars, furniture, clothes, groceries, beauty products, electronics, visits to doctors and dentists, and tickets to sporting events and movies." The total U.S. GDP for 2015 was $17.947 trillion. That makes the consumer the Decider in Chief of what happens in the U.S. The consumer's willingness to spend represented 66.86 percent of total GDP last year.
Consumers are also workers. Sanders wanted to give them a bigger piece of the corporate profits pie that would likewise bolster the U.S. economy.
Consumers are also taxpayers. Sanders wanted to help consumers by making the super wealthy pay their fair share in taxes. Consumers are also voters – Sanders wanted to give them a President who represented the people, not special interests.
But dark forces prevailed and "the people" have ended up with two presidential candidates with the lowest approval ratings in memory. According to a Washington Post-ABC News Poll taken between August 24-28, 2016, 56 percent of Americans have an unfavorable opinion of Hillary Clinton. The Washington Post notes for good measure that this is "the worst image Clinton has had in her quarter-century in national public life." Donald Trump weighs in with an unfavorable opinion by 63 percent of Americans. If you look at just registered voters, according to the poll, Clinton and Trump are running almost neck and neck with an unfavorable rating of 59 percent for Clinton and 60 percent for Trump.
Unlike Sanders, who has enjoyed a scandal-free quarter century in the House and Senate, both Clinton and Trump have citizens walking on pins and needles waiting for the next scandal to unfold and bring further disgrace to the country.
Read More @ WallStOnParade.com
Help us spread the ANTIDOTE to corporate propaganda.

Please follow SGT Report on Twitter & help share the message.