by Wolf Richter, Wolf Street:
Part of the "unfortunate new normal."
Corporate America has spoken again. The Business Roundtable, a lobbying group composed of the CEOs of the largest members of Corporate America, released its third quarter 2016 CEO Economic Outlook Survey today. And what it said about employment was ugly.
These companies matter in the US economy. They have combined global revenues of $7 trillion per year and a combined stock market capitalization of $7.9 trillion (that was probably before today's selloff). They employ 16 million people. They buy nearly $500 billion a year from small and medium-sized firms annually. When they turn negative on employment, it has a ripple effect.
The overall economy remains mired in the "unfortunate new normal" – that's how Business Roundtable Chairman and Caterpillar CEO, Doug Oberhelman, summarized the survey results. This "unfortunate new normal" is the condition where the economy is "pretty much stuck in neutral rather than moving forward."
The survey results "show a continuation of an economy that's failing to live to its potential," he added. Which has been the case for years.
The overall economic outlook index – a composite of CEOs' six-month projections for sales, capital spending, and employment – dropped 3.9 points to 69.5, well below the historical average of 79.6. But anything above 50 in this diffusion index (whose upper limit is 150) means growth, however slow it may be. And so these CEOs pegged 2016 GDP growth at "just" 2.2%.
Lousy as this sort of economic growth is, it could still be a stretch, given how crummy the last two quarters had been: real GDP in Q2 was only up 1.2% year-over-year. So there better be a boom in the second half.
And two of the three sub-components are further deteriorating.
Expectations for sales over the next six months fell by 9.3 points, with 59% expecting an increase, 29% expecting no change, and 11% expecting a decrease. But they're an optimist bunch. They always are when it comes to sales, no matter how tough the situation. This includes BRT Chairman Oberhelman, whose company, Caterpillar, has been dogged by revenue declines since 2012. But it's always going to get better.
In the second quarter, the S&P 500 companies have booked year-over-year revenue declines for the sixth quarter in a row! The last quarter with a revenue increase had been Q4 2014. That was a long time ago!
But on the premise that it's always going to get better, the diffusion index for sales, though down 9.3 points, came in at 98.3 – well into growth territory, though on a downward slope of optimistic projections. And sales optimism hasn't been this low very often (chart by BRT):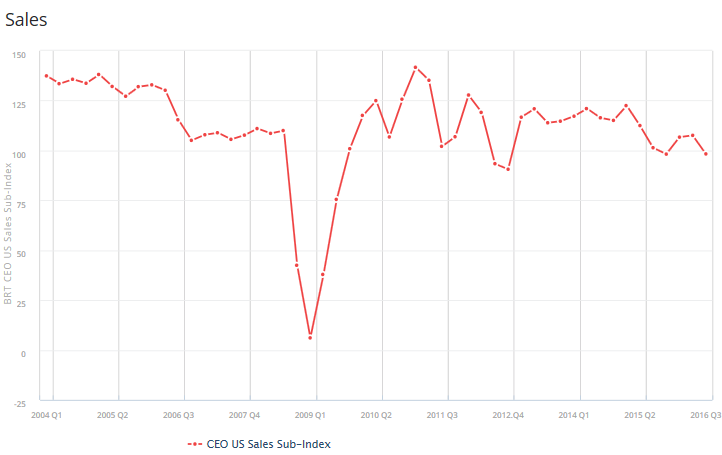 Employment projections by these CEOs portray a much tougher, and perhaps more realistic view of the economy, than their sales projections. Expectations for employment declined by 3.4 points from last quarter, with only 27% of the CEOs expecting to increase their payroll, while 37% expect no change, and a chilling 36% expect to cut their payroll.
Help us spread the ANTIDOTE to corporate propaganda.

Please follow SGT Report on Twitter & help share the message.