by Claire Bernish, The Free Thought Project: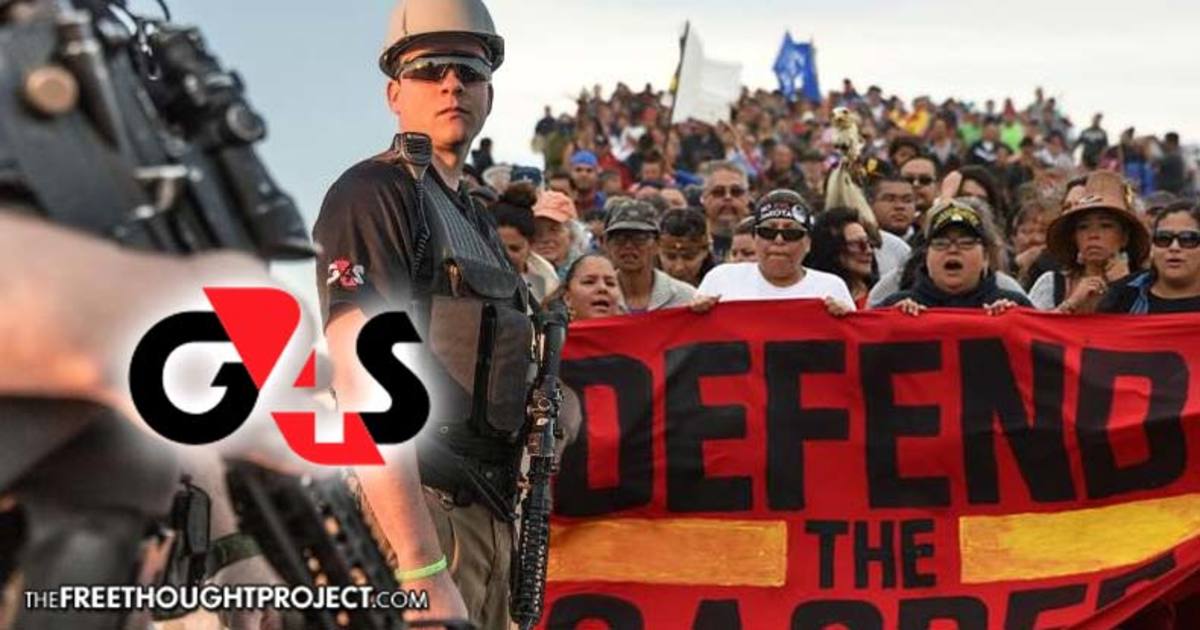 An alarming report says the secretive global security firm G4S — which many equate to private mercenaries for hire — admitted to providing personnel to guard construction of the eminently controversial Dakota Access Pipeline.
G4S, which recently came under fire in the United States for having employed Pulse nightclub shooter Omar Mateen, is described by the Intercept as "one of the world's largest private security companies" and "a giant, often controversial global contracting corporation that provides mercenary forces, prison guards and security services" in over 100 countries.
G4S, in fact, has been accused of making "money from misery" by Antony Loewenstein, who authored the book "Disaster Capitalism: Making a Killing out of Catastrophe."
In an email, G4S Communications Director Monica Lewman-Garcia told TeleSUR, "G4S Secure Solutions is providing fewer than 10 security officers, assigned to remote sites, providing limited short-term unarmed patrol services."
However, although Lewman-Garcia stated "unarmed patrol services," a curious job listing posted to GlassDoor and LinkedIn for G4S Secure Solutions in Mandan, North Dakota — quite near the Standing Rock Sioux water protection camps — explicitly seeks an "Armed Custom Protection Security Officer." Further, while the position advertised in LinkedIn appears to have been filled, the GlassDoor listing has not disappeared — and was posted just over a month ago — potentially suggesting G4S requires additional armed guards to control ongoing tensions in the area.
On Saturday, private security mercenaries pepper-sprayed, maced, and unleashed vicious attack dogs against activists and Native American water protectors after construction crews deliberately desecrated a two-mile stretch of land containing a number of sites sacred to the Standing Rock Sioux. Six people were mauled by dogs — including a pregnant woman and young girl, according to people on scene — and at least 30 people were gassed by mace and pepper spray.
In court documents filed less than 24 hours before crews razed the sacred land, the tribe's former longtime historic preservation officer, Tim Mentz — who finally surveyed the land for the first time recently when a private landowner granted access — specifically pinpointed each area of interest to the Standing Rock Sioux. Mentz and other tribal leaders suggested those documents were used by Energy Transfer Partners' crews to bring malicious and intentional retributive action against the over 100 Native American nations and their supporters occupying the land in an attempt to halt pipeline construction.
"I do not believe the timing of this construction was an accident or coincidence," Mentz wrote in a court filing seeking an emergency temporary restraining order against further construction activity on Sunday. "It appears that DAPL drove the bulldozers approximately 20 miles of uncleared right of way to access the precise area that we surveyed and described in my declaration" to the court.
Infuriated over the almost certain deliberate decimation of those sites, water protectors and activists attempted to block the path of construction crews — which led to the violent clash.
Lewman-Garcia claimed in the email G4S officers "were not present and not involved at the location where the incident occurred." But considering discrepancies between her statement and the job listing for armed personnel, however, the veracity of that claim must be called into question — particularly considering the firm's reputation for brutality and lack of ethics.
Read More @ TheFreeThoughtProject.com
Help us spread the ANTIDOTE to corporate propaganda.

Please follow SGT Report on Twitter & help share the message.