by Ken Klukowski, Brietbart: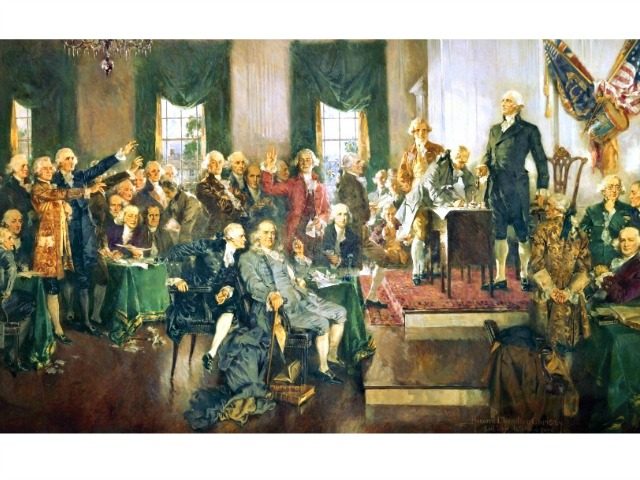 On this day in 1787, the founders of this nation finished writing a Constitution that in the intervening 229 years has helped make America the greatest nation on earth. When voters go to the polls on Nov. 8, the American people will decide whether that document will continue to serve as the Supreme Law of the Land.
America declared its independence from Great Britain in 1776. Then in 1777 the signers of the Declaration adopted the Articles of Confederation, creating a common government that would bind the 13 newly minted states together as a nation, forming a confederation of sovereign states.
But it became clear that America would not survive under the Articles. Americans stuck together through the Revolutionary War, united against a common enemy. But after Britain's General Cornwallis surrendered to George Washington at Yorktown in 1781, the new nation started to unravel.
VIDEO: OBAMA: KAEPERNICK UTILIZING CONSTITUTIONAL RIGHT
America's leaders knew they needed a new national compact, one that would regulate interstate commerce, guarantee a common defense, and empower the United States to speak with a unified voice on the world stage.
Their solution was the Constitution. For the first time in human history, a people decided to govern itself through a written document, one that would supersede every ruler and authority. All public officials and military officers would be required to take an oath to support and defend this Constitution before they could assume the powers of their office.
The Constitution was premised on the Framers' mistrust of government power. They took that power and broke it, separating it into two levels: federal and state. The states were left free as sovereign institutions to structure their government however they wanted, so long as it was a republican government.
Help us spread the ANTIDOTE to corporate propaganda.

Please follow SGT Report on Twitter & help share the message.