by Pam Martens and Russ Martens, Wall St On Parade: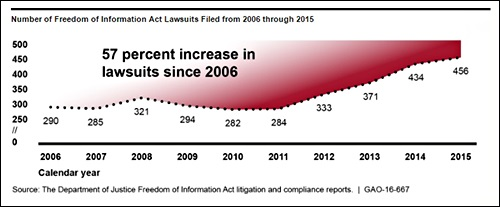 Last Thursday the Government Accountability Office (GAO) released a report showing that since President George W. Bush left office, lawsuits by persons who were unable to obtain Federal records that they believed belonged in the public domain grew dramatically. In 2008, the last year of Bush's presidency, 321 Freedom of Information Act (FOIA) lawsuits were filed. By 2014, that number had spiked to 434 lawsuits and registered 456 last year, an increase of 42 percent over 2008.
The numbers understate the public's frustration with Federal government stonewalling on public record requests. According to the GAO report, 713,168 FOIA requests were made by the public last year. Before one can file a FOIA lawsuit, one must file an administrative appeal with the agency that denied or partially denied the records sought. Average citizens have inadequate time and resources to engage in fighting an entrenched, stonewalling bureaucracy.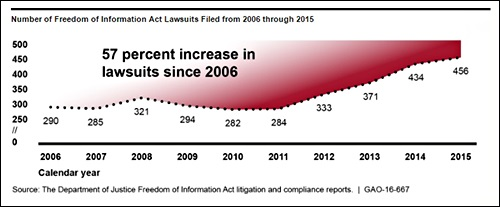 Curiously, the GAO study wasn't looking at whether the public interest was being served under the FOIA legislation; it was looking at costs to the Federal government for stonewalling and getting sued. Its finding, in a nutshell, is that it's quite cost effective to draw a dark curtain around the U.S. government. The report found that for fiscal years 2009 through 2014, Federal agencies "collectively reported costs totaling $144 million for all of the FOIA lawsuits that they defended." Out of an approximate $3.5 trillion in Federal expenditures in 2014, $144 million is likely pocket change in the government's view.
Fighting your government in Federal court, where FOIA lawsuits land, is not a particularly winning strategy either. The GAO study found that of the "1,672 Freedom of Information Act (FOIA) lawsuits with a decision rendered between 2009 and 2014, GAO identified 112 lawsuits where the plaintiff substantially prevailed" in court. Federal courts have judges who are appointed by the President of the United States and have lifetime appointments, making them free from worry about losing their job because of a public uprising over jaded decisions.
Barack Obama, the presidential candidate who ran on a platform of "hope and change" issued an "Open Government" memo on the very day he was sworn into office, January 21, 2009. He promised the American people an era of transparency between themselves and their government. In March of that year, the Justice Department, which defends FOIA lawsuits on behalf of the government, issued detailed guidelines on how Federal agencies were to proceed going forward on FOIA requests. A relevant part read:
"The President's FOIA Memoranda directly links transparency with accountability which, in turn, is a requirement of a democracy. The President recognized the FOIA as 'the most prominent expression of a profound national commitment to ensuring open Government.' Agency personnel, therefore, should keep the purpose of the FOIA — ensuring an open Government — foremost in their mind."
Wall Street On Parade has been one of the media outlets seriously hampered by the repeated denial of its FOIA requests to those Federal agencies whose function, ostensibly, is to oversee the rogues of Wall Street while allowing the public to have sunshine and accountability into the functioning of this process.
Our most recent experience shows just how tattered and shopworn Obama's FOIA directive has become. On April 22, 2016, we filed a FOIA with the Federal Reserve Board of Governors seeking records and emails between itself and other Federal regulators "regarding derivatives held at the following banks: JPMorgan Chase, Citigroup or Citibank, Goldman Sachs, Lehman Brothers, Morgan Stanley, Bank of America or Merrill Lynch which pertain to a potential threat to the safety and soundness of the U.S. banking system" over a specified eight-year span of time.
In other words, the Federal Reserve could have simply queried the words "derivatives" with the Boolean operator "AND" together with the words "safety and soundness" to efficiently provide us with the sought after documents. Instead, we were told our request was too broad and asked to narrow it.
We dramatically limited the request from eight firms to three (JPMorgan Chase, Citigroup/Citibank), a reduction of 62.5 percent and narrowed the timeframe from eight years to five (January 2, 2008 to December 31, 2012), a reduction of 37.5 percent.
In a letter dated June 20, 2016, Michele T. Fennell, Assistant Secretary of the Board of the Federal Reserve wrote to deny the request, indicating, among other things, that we would need to indicate the specific staff members by name with whom the correspondence would have flowed. This requirement by the Federal Reserve effectively eviscerated the intent of FOIA while asking Wall Street On Parade to acquire omnipotent powers.
Read More @ WallStOnParade.com
Help us spread the ANTIDOTE to corporate propaganda.

Please follow SGT Report on Twitter & help share the message.