by Pam Martens and Russ Martens, Wall Street On Parade: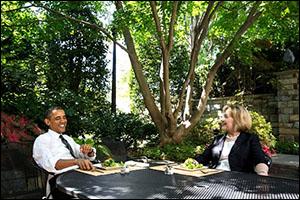 President Obama holds the highest office in the United States. He has a law degree from Harvard Law and was a former editor of the Harvard Law Review. Presidential candidate Hillary Clinton holds a law degree from Yale University. Despite the legal background of the President and former Secretary of State, both seem to be winking at the serious legal issues surrounding the former Democratic National Committee Chair, Debbie Wasserman Schultz.
Wasserman Schultz has been sued along with the DNC in the Federal District Court of South Florida, where the lead plaintiff, Carol Wilding, resides. The lawsuit is on behalf of Senator Bernie Sanders' supporters and alleges fraud, negligent misrepresentation, deceptive conduct, unjust enrichment, breach of fiduciary duty, and negligence. There are already more than 100 named plaintiffs and the court was told in the amended complaint that an additional 1,000 have signed retainer agreements to serve as class representatives.
There appears to be little question that the fiduciary role that Wasserman Schultz was assigned under the Charter of the DNC was not met and that key staff working under Wasserman Schultz engaged in a full scale conspiracy to undermine the Presidential campaign of Sanders. Emails leaked by Wikileaks in July show Wasserman Schultz referring to Sanders' campaign manager, Jeff Weaver, as "an ass," "particularly scummy" and a "damn liar" as her staff conspired in emails to characterize Sanders as an atheist and his campaign a "mess." (Sanders has said he is not an atheist.) As this plotting was taking place, the DNC had set up a joint fundraising account with Hillary Clinton which was raising millions of dollars and effectively functioning as if Clinton had no primary challenger.
Article Five, Section 4 of the DNC Charter mandates the following:
"The National Chairperson shall serve full time and shall receive such compensation as may be determined by agreement between the Chairperson and the Democratic National Committee. In the conduct and management of the affairs and procedures of the Democratic National Committee, particularly as they apply to the preparation and conduct of the Presidential nomination process, the Chairperson shall exercise impartiality and evenhandedness as between the Presidential candidates and campaigns. The Chairperson shall be responsible for ensuring that the national officers and staff of the Democratic National Committee maintain impartiality and evenhandedness during the Democratic Party Presidential nominating process." [Emphasis added.]
Using the most generous interpretation of this Charter mandate, it would appear that Wasserman Schultz first violated the requirement that she serve full time since she was simultaneously serving full time as a member of the House of Representatives.
Read More @ WallStOnParade.com
Help us spread the ANTIDOTE to corporate propaganda.

Please follow SGT Report on Twitter & help share the message.