by Wolf Richter, Wolf Street:
The Italian Dilemma.
The sudden panic about a potentially imminent Italian banking sector collapse back in July has somewhat subsided for now, but sooner or later the issue will inevitably rear its ugly head again.
Two months after Italian bank stocks collapsed even further in the aftermath of the Brexit vote, fears of an imminent need for a bail-in have receded as the Italian government works on plans to shore up its weakest bank, Monte dei Paschi di Siena (MPS). This will be achieved via an alternative but rather ambitious method culminating, if all goes according to plan, in a new capital injection.
However, MPS, which came up short in July's ECB stress tests, has already received capital injections in the past. Such plans to patch up banks have tended to involve kicking the can down the road rather than providing a more definitive solution to the 360 EUR billion of non-performing loans (NPLs) weighing down Italy's banking sector – equivalent to one fifth of its GDP.
If a sustainable solution is not found to clean up Italian bank balance sheets in the near future, they will inevitably constrain domestic demand and thereby weigh on the country's already feeble growth even further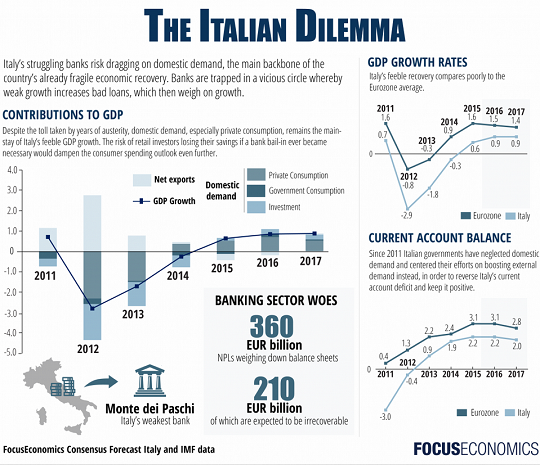 Domestic demand, the longstanding mainstay of the Italian economy, is already under intense pressure. In the second quarter, GDP failed to grow in quarter-on-quarter terms, primarily on the back of a broad-based deterioration in all components of domestic demand (private consumption, government consumption and fixed investment). Domestic demand is expected to remain weak, based on our latest September Consensus Forecast for Italy.
A failure to swiftly clean up bank balance sheets means domestic demand will inevitably suffer as bank credit supply constraints continue to prevent the recovery of investment. Loan-loss provisioning reduces the credit banks have available for lending, especially to small and medium-sized enterprises (SMEs) and consumers, which are perceived as risky.
Analysts assessing the Italian banking sector are now most worried about the risk of chronically constrained growth rather than another systemic shock, as banks are trapped in a vicious circle whereby poor economic growth means bad loans keep growing, which in turn weigh on growth even further.
Help us spread the ANTIDOTE to corporate propaganda.

Please follow SGT Report on Twitter & help share the message.