by Charles Hugh Smith, Of Two Minds: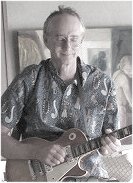 The truth is the rich are getting richer and everyone else is losing ground as inflation chews through stagnant incomes.
Supporters of the status quo nearly wet their pants with joy when the Census Bureau reported that real (adjusted for inflation) median household income rose 5.2% between 2014 and 2015. Too bad it was completely bogus: the supposed increase in everyone's income is pure statistical trickery.
First, the marks who fell for it: here's the Huffington Post wetting itself with glee: Average Americans Just Got a Huge Income Boost.
This headline is risibly wrong on a number of counts. Most importantly, a notch up in median household income doesn't mean "average Americans Just Got a Huge Income Boost": It means that half of households in 2015 earned more than $56,516 and half earned less than $56,516.
It does not mean every household saw a boost in income.
Please follow along as I show you how median household income works. Let's start with a simple sample group of ten households. Household #1 earns $40,000, #2 earns $41,000 and so on, as each additional household earns $1,000 more than the previous household. Household #10 earns $49,000.
The median income of our group is $44,500, as 50% earn less than $44,500 and 50% earn more than $44,500.
As the economy expands, it adds two households earning $48,000 and $49,000 respectively. Meanwhile, the income of the two households that had earned $48,000 and $49,000 respectively each leaps to $250,000 each.
The median household income of the group increases to $45,500, but only the top two households experienced any increase in real income–and their income soared. The "average household" didn't make a dime more, even as the economy expanded and income for the entire group rose an astonishing 45%.
You see what happened as median household income increased: all the gains went to the top layer–"average" household income didn't rise at all. See how much fun we can have with misleading statistics?
Yes, median household income would rise if every household earned an additional $1,000. But an increase in median household income does not prove every household gained.
In fact, other statistics reveal that the increases in income and wealth have been concentrated in the top 1%, 5% and 10%.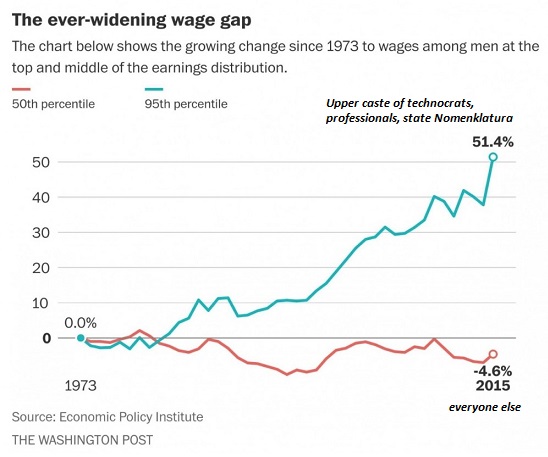 Help us spread the ANTIDOTE to corporate propaganda.

Please follow SGT Report on Twitter & help share the message.