by Michael Noonan, GoldAndLiberty: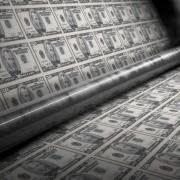 We are taking another look at the globalist-owned Federal Reserve and their totally fiat Federal Reserve Note, more commonly and inaccurately referenced as the "dollar," which it is not and never was. The fact that people in the United States continue to believe that the "dollar" is real and the Federal Reserve is a part of the US government speaks to how successfully the total Ponzi scheme perpetrated by the elites over the last century plus has fooled almost everyone.
Today, cash is barely 5% of "money" in circulation, and the bankers want to do away with even that paltry source in order to fully gain control over the financial lives of all citizens. The fact that this information still needs to be explained relates to the futility of the public ever wakening to the reality of how all Americans have been, and continue to be fleeced by the elites who control every aspect of how the United States functions, including the bought and paid for politicians, starting with the corporate federal president on down.
Our take on the precious metals charts strongly suggests that gold and silver may work higher, over time, but it will be labored and not without intense effort to overcome the unlimited ability of the Federal Reserve [controlled entirely by the elites] to create an infinite supply of debt that poses as "money."
Money does not exist in this country. In fact, money does not exist anywhere in the world. What is money? So few people know, and many who profess to know do not. Money is a commodity with a recognized value. Gold and silver remain the last known standard of real money. Remember J P Morgan's famous words: "Gold is money. Everything else is credit."
If ever there were anyone in a position to know the difference between what is money and what is not, Morgan certainly knew. Credit is debt. Debt can never be money. Federal Reserve Notes, those that you have in your wallet and circulate in transactions are pure debt issued by the Federal Reserve. As we have stated several times, they are not Federal, there are no reserves, and they are not Notes. A note is a promise to pay something to someone within a specified period of time. There is no such promos on any Federal Reserve Note. These are undeniable facts yet many deny acknowledging this reality.
Read More @ GoldAndLiberty.com
Help us spread the ANTIDOTE to corporate propaganda.

Please follow SGT Report on Twitter & help share the message.