by Michael Snyder, End Of The American Dream: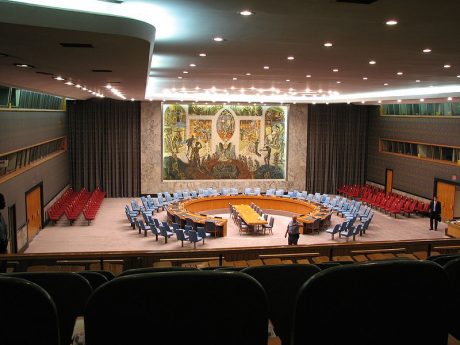 United Nations Secretary-General Ban Ki-moon has harshly criticized Israeli settlements in the West Bank and is calling for urgent action to save "the two state solution". He insists that Israeli settlements in the West Bank "are illegal under international law" and he told reporters that the "occupation" of Palestinian-controlled territories "must end". These comments represent perhaps the strongest statements that any UN Secretary-General has ever made against Israel, and they come at a very ominous time. As I detailed just a few days ago, there is a major push to try to get some sort of UN Security Council resolution on the Israeli-Palestinian conflict before Barack Obama leaves office. As you will see below, this is something that UN Secretary-General Ban Ki-moon obviously endorses.
Those that are hoping for a "two state solution" know that fresh negotiations between the Israelis and the Palestinians are not likely to happen any time in the near future. So if the "peace process" is going to move forward, it is going to have to happen at the United Nations.
Ban Ki-moon is among those that are desperate to try to save the "two state solution", and as the UN begins a new annual session this week he is urging imminent action. The following comes from the official UN website…
United Nations Secretary-General Ban Ki-moon today called for intensified efforts to encourage Israelis and Palestinians to take the difficult steps required to change the current destructive trajectory of the conflict, which is heading towards a "one-state reality" rather than a peaceful resolution.

"Twenty-three years ago, almost to the day, the first Oslo Accord was signed between Israel and the Palestine Liberation Organisation," the Secretary-General told the Security Council in a briefing on the situation in the Middle East.

"Unfortunately, we are further than ever from its goals. The two-state solution is at risk of being replaced by a one-state reality of perpetual violence and occupation," he warned.
Using the term "occupation" clearly shows which side of the fence Ban Ki-moon is on, and he went on to declare that the "occupation" of the West Bank by Israel "must end"…
Turning to Israel's settlement activities, Mr. Ban said that in the past two weeks alone, plans were advanced for yet another 463 housing units in four settlements in Area C of the West Bank. Official Israeli data shows that the second quarter of 2016 had the highest number of construction starts in three years.

"The decades-long policy that has settled more than 500,000 Israelis in Palestinian territory is diametrically opposed to the creation of a Palestinian state," he said.

"Let me be absolutely clear: settlements are illegal under international law. The occupation, stifling and oppressive, must end," he said.
Those that have followed Ban Ki-moon's career know that he is a relatively soft-spoken guy.
To make these kinds of incendiary comments is basically his version of shouting from the rooftops. He appears to be obsessed with getting something done to formally establish a Palestinian state, and he knows that he realistically only has until January 20th, 2017 to accomplish his goal.
As I mentioned above, a new UN annual session begins this week, and many are concerned that a UN Security Council resolution that sets the parameters for a Palestinian state will be on the agenda. The following is from a Wall Street Journal article that was published just a couple of days ago…
The United Nations began its annual session this week, and Israel will be prominent on the agenda. Many fear the Security Council may consider a resolution setting definite territorial parameters, and a deadline, for the creation of a Palestinian state. President Obama has hinted that in the final months of his term, he may reverse the traditional U.S. policy of vetoing such resolutions. The General Assembly, meanwhile, is likely to act as the chorus in this drama, reciting its yearly litany of resolutions criticizing Israel.
Read More @ EndOfTheAmericanDream.com
Help us spread the ANTIDOTE to corporate propaganda.

Please follow SGT Report on Twitter & help share the message.