by Steve St. Angelo, SRSRocco Report: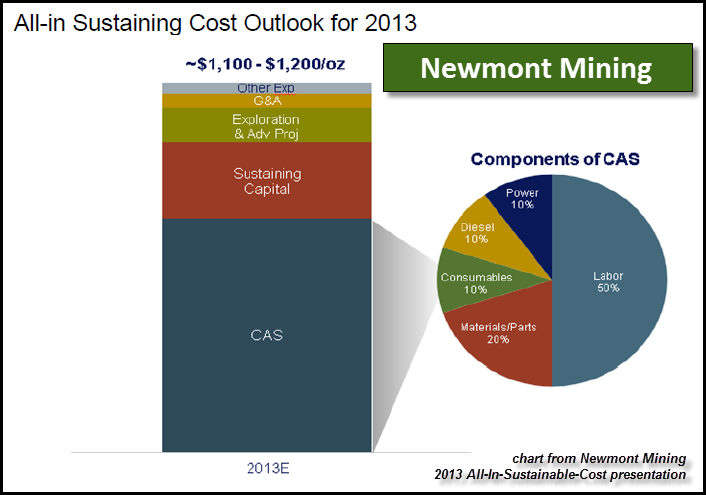 The true value of gold is much higher than the spot price quoted in the market. This is due to several factors, but the most important reason is misunderstood by just about every economist and monetary scientist in the world today. Those who are able to understand the information in this article, will finally be able see the value of gold (money) in a totally different way.
It has taken me years of research and reflection to understand GOLD's TRUE VALUE. Unfortunately, the majority of economists and precious metal analysts look at gold in a very specialized way. While precious metals analysts see gold as real money versus the Keynesian view of a Fiat Dollar System, both fail to grasp gold's true value.
Gold is more than a precious metal based on supply and demand. Furthermore, the Austrian School of Economics looks at gold as a foundation of money in the procurement of goods and services. However, gold's real value comes from energy in all forms and in all stages in its production
I am going to repeat it one more time…. gold's real values comes from ENERGY in ALL FORMS and IN ALL STAGES in its production.
I have been saying this in interviews and writing about it for years, but I still believe a lot of people just don't get it. So, now I am going to break it down in a simple chronological way.
The Foundation Of Gold Money: ENERGY = GOLD = MONEY
To understand this principle, I have decided to use one of the largest gold producers in the world as an example, Newmont Mining.
According to Newmont's 2013 All-In-Sustaining-Cost for producing gold, they provided the following chart: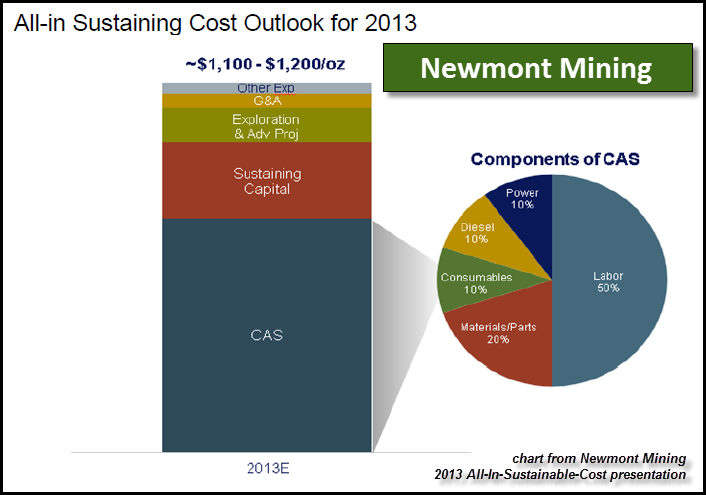 Now, this was a few years ago when the price of oil (energy) was higher, so with lower energy prices, costs have come down since then. Regardless, this still provides us with a list of costs. The main part of Newmont's sustaining costs are shown as CAS – Cost Of Sales. That's the blue part of the bar chart, which is broken down on the right, in the circle pie-chart.
If we look at the pie-chart by itself, we see that energy comprises 20% of the total costs. Of course, the knee-jerk reaction from a typical precious metals analyst is that energy is only 20% of Newmont's cost to produce gold. The analyst only sees 20% energy cost because his mind has been trained to look in a superficial and specialized way. We are going to change that limited viewpoint HERE & NOW.
Here is a breakdown of the CAS -Cost Of Sales pie-chart: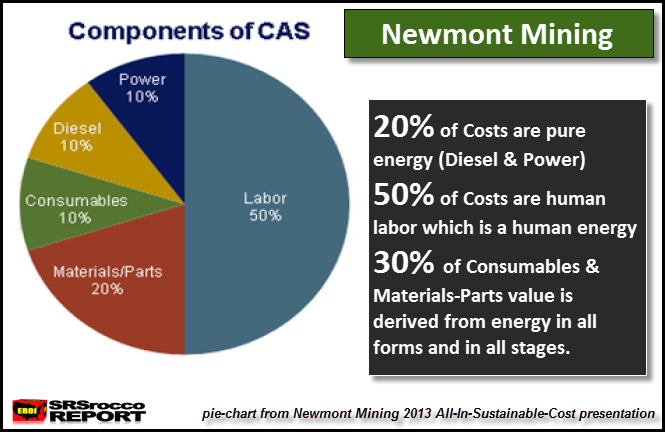 As we can see, diesel at 10% and power (electricity) at 10% comprises 20% of pure energy for Newmont's gold cost. However, we must realize that labor at 50%, is also a form of energy…. it's HUMAN ENERGY. People need to understand that science breaks down labor into work or energy. The term Horsepower was developed from the energy of horses performing work. Thus, human labor is a form of work, and is also a form of energy.
Now, some of the labor force gets paid more because their labor contains more experience and specialization. For example, an experienced mechanic working on the huge earth moving machines gets paid more than another working doing regular manual labor because of the TIME & ENERGY invested in the mechanic's trade. The mechanic spent years doing work and education which consumed one hell of a lot of energy in different forms to have 20 years experience. Thus, the energy in labor for years of work has provided him that experience. Which means, the amount of work-energy the mechanic has done for 20 years allows him to be paid a higher rate.
Read More @ SRSRoccoReport.com
Help us spread the ANTIDOTE to corporate propaganda.

Please follow SGT Report on Twitter & help share the message.