by Pam Martens and Russ Martens, Wall Street On Parade: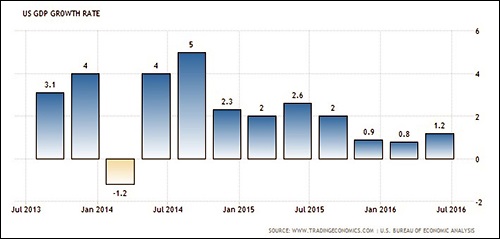 According to the National Bureau of Economic Research, the Great Recession (that was brought on by the implosion of Wall Street) ended in June 2009. What we've been in since that time is supposed to be the "recovery" part of the cycle. But for tens of millions of Americans, it has been hard to tell the recovery from the crisis in terms wealth accumulation, wage growth, or ability to earn a decent rate of interest on savings.
On Friday the Commerce Department released second quarter Gross Domestic Product data, showing that the U.S. economy grew at a 1.2 percent annual rate. That tepid number came on the heels of an anemic 0.8 percent rate of GDP growth for the first quarter.
It has now been more than a decade since the U.S. economy grew at an annualized rate of 3 percent or better – the longest subpar growth stretch since the end of World War II.
Long stretches of anemic performance suggest that a "cyclical" situation may have given way to a "secular" or long-term trend. As a result, we are seeing the words "secular stagnation" used increasingly to describe the U.S. economy.
One of the first individuals to go on television and attempt to knock down the rosy spin on the recovery was Steve Ricchiuto, Chief U.S. Economist at Mizuho Securities USA. In February of 2015, Ricchiuto told a CNBC audience the following:
"…there's also this wrong concept that I keep hearing over and over again in the financial press about this acceleration in economic growth. That isn't happening. Last month we had a horrible retail sales number. We had a horrible durable goods number. We're likely to have a very disappointing retail sales number coming forward. This month we've had a strong payroll number – we say everything's great. It's not great. It's running where it's been. It's been the same thing for the last five years. There's no improvement in the economy."
We've had throughout this recovery an approximate two percent rate of growth. Now, averaging together the first and second quarters of 2016, we have half that rate of growth – one percent.
Read More @ WallStOnParade.com
Help us spread the ANTIDOTE to corporate propaganda.

Please follow SGT Report on Twitter & help share the message.