by Michael Snyder, End Of The American Dream: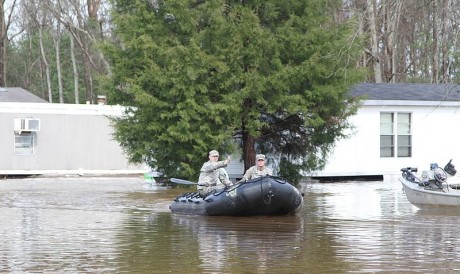 Since last October, the United States has been hit by "historic flood" after "historic flood", and this latest flooding down in Louisiana that is making headlines all over the world has been caused by a "500 year storm". Even before some areas of the state received more than 30 inches of rain, this was already the worst 12 months for floods in U.S. history, but without a doubt this has put an exclamation mark on this exceedingly unusual stretch of flooding. There are some rivers down in Louisiana that have crested three to four feet higher than their previous all-time records, and Governor Edwards is using the words "unprecedented" and "historic" to describe these floods. So far, 20,000 people have been rescued by authorities, and Governor Edwards even had to evacuate the Governor's Mansion due to chest-high water in the basement.
So why is this happening?
Why are we being hammered by historic flood after historic flood?
One of the most amazing images from the flooding down in Louisiana was of caskets that had been washed up from a graveyard that were literally floating down the street. Meteorologists are telling us that the storm that brought all of this rain was essentially equivalent to a tropical storm…
As meteorologist Tim Destri with the NWS New Orleans/Baton Rouge office explains it, a low pressure system forms near the surface bringing deep tropical moisture from the warmer water in the Caribbean — almost like a hurricane but without the wind and the name.

"Everything came together just right like it would with a tropical weather system," Destri said.
Destri went on to compare the damage caused by this storm to Hurricane Katrina…
"This probably ranked up there with some of the top rainfall-producing systems in history," Destri said. "Damage is really significant, I mean extreme, because it's been so devastating with some houses just completely inundated, just scenes like Katrina almost."
In fact, in some areas the damage was even worse than we saw during Hurricane Katrina. According to the Washington Post, one resident said that this flooding was "the worst situation I've ever been through".
And unfortunately, it isn't over yet. More rain was forecast for today, and that is going to make the flooding even worse.
They will be talking about this current flood down in Louisiana for many years to come, and we will add this flood to the other historic floods on my ongoing list from previous articles…
October: Hurricane Joaquin never makes landfall, but it tracks up the east coast of the United States causing nightmarish rainfall and flooding all over the eastern seaboard. Things were particularly bad in South Carolina, where the governor declared that it was the worst rainfall that many areas of her state had seen in 1,000 years.
October: Violent storms in southern California caused flash flooding that buried some highways in "rivers of mud" that were up to six feet deep. Hundreds of vehicles got buried in the fast moving mud, and the lifeless body of one man that had his vehicle completely encased by several feet of mud was recovered only after a few days had passed because that is how long it took emergency workers to dig him out.
October: Hurricane Patricia was the second most intense tropical cyclone ever recorded in the entire world, and remnants from that storm caused absolutely horrible flooding in some parts of Texas. The flood waters were moving so fast at one point that a freight train was actually knocked entirely off the tracks.
November-December: A "conveyor belt" of violent storms barreled into coastal areas of Oregon and Washington causing nightmarish flooding in many areas. The resulting landslides and floods made headlines all over the country, and it is going to be a long time before the region fully recovers. In early December we witnessed the wettest day in the history of Portland, Oregon, and things were also extremely bad at that time up in the Seattle area.
January: The middle part of the country experienced record-breaking flooding as the calendar rolled over from 2015 to 2016. The only thing that people could really compare it to was the great flood of 1993, and Missouri Governor Jay Nixon said that some communities saw floodwaters get to "places they've never been before". Normally, if the middle of the country is going to see flooding like this it is going to take place when the snow begins to thaw in the spring. For something like this to happen in the middle of the winter was absolutely unprecedented.
Read More @ EndOfTheAmericanDream.com
Help us spread the ANTIDOTE to corporate propaganda.

Please follow SGT Report on Twitter & help share the message.