by Pam Martens and Russ Martens, Wall Street On Parade: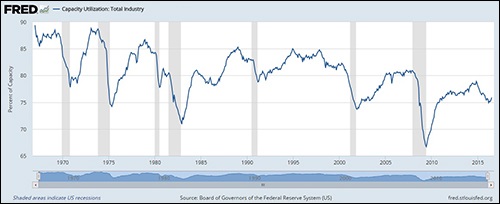 Since the Wall Street crash in 2008 crippled the U.S. economy, Congress has played the role of a spectator at a big league baseball game – munching on popcorn and licking its greasy fingers soiled with corporate campaign loot – as the real players on the field, the Federal Reserve, controlled the action. The above chart shows the steady erosion of Capacity Utilization in the U.S. since Congress surrendered its job to the deeply conflicted Fed. The chart comes courtesy of the Federal Reserve Bank of St. Louis, which defines Total Industry Capacity Utilization this way:
"the percentage of resources used by corporations and factories to produce goods in manufacturing, mining, and electric and gas utilities for all facilities located in the United States (excluding those in U.S. territories)."
In November 2007, prior to the onset of the crash, Capacity Utilization stood at 80.9 percent. Last month it clocked in at 75.9 percent. It has been on a sharp decline since November 2014.
The St. Louis Fed says you can also think of capacity utilization as how much capacity is being used from the total available to produce the demand for finished products. Clearly, in a nation where wealth and income is concentrated in the hands of one percent of the population, there will be withering demand for products and an intractable cycle of deteriorating capacity utilization. In other words, the problem is wealth and income inequality, which is being exacerbated rather than helped by allowing the Federal Reserve to remain in charge.
The Fed's enforcement of zero to near-zero interest rates has stripped income from seniors living on fixed income while inflating financial assets – the vast majority of which are held by the super rich. While the Fed claims to have made great strides on the employment front, government data show a serious problem. According to the Bureau of Labor Statistics, in January 2007, 91.5 percent of men aged 25 to 54 were gainfully employed in the U.S. Today, that number stands at 88.4 percent. There has been no material improvement in that number for a solid five years of this so-called "recovery" managed by the Fed.
Read More @ WallStOnParade.com
Help us spread the ANTIDOTE to corporate propaganda.

Please follow SGT Report on Twitter & help share the message.